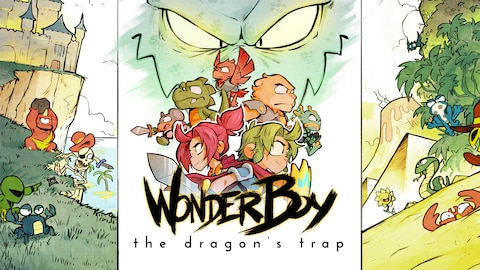 Note: This offer is available for free till July 21, 2022, at 17:00 CET.
Cursed into a half-human, half-lizard monstrosity by the Meka-Dragon, you are in search for a cure! The only way you can return to human form is to find the Salamander Cross, a magical item with the power to remove curses…
With each dragon slain, the curse intensifies, transforming you into different animals! Explore large, interconnected locations populated with grumpy monsters and exotic dragons!
Play as the game's classic character, Hu-Man, or as his brand-new, long-awaited co-star Hu-Girl. You can also inhabit Lizard-Man, Mouse-Man, Piranha-Man, Lion-Man, and Hawk-Man, and use their unique abilities to uncover the land's deepest secrets.
Enjoy 3 difficulty levels catering to players of all types, and switch from modern graphics and sound to 8-bit graphics/audio at any time — even during gameplay!
Specifications
Minimum
OS: Windows 7
Processor: Any
Memory: 4 GB RAM
Storage: 1.1 GB available space
Graphics: Intel HD Graphics 4000-5000 series (game in 720p)
DirectX: Version 10
Recommended
OS: Windows 10
Processor: Any
Memory: 8 GB RAM
Storage: 1.1 GB available space
Graphics: NVIDIA GeForce GTX 760
DirectX: Version 10
Languages Supported
Text: Italian, German, English, French, Spanish (Spain)
The process to get:
Log in to your Epic Games Store account or register a new one.
Visit the LINK and click the GET button.
Next, make sure the total says $0.00 and click PLACE ORDER.
On successful order, you will get a receipt in your email. Download Epic Games Launcher , install it on your computer to access your game.
Enjoy!