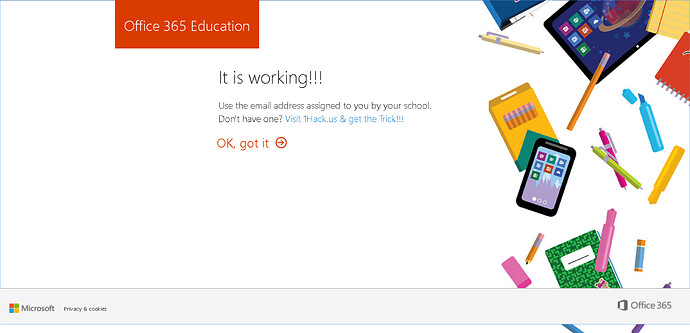 Steps:-
Step 1 - Get Any College/School .edu Mail.. using this tutorial by @SaM >>> [HQ] .edu EMAIL FREE (UNLIMITED & FAST) (NO PHONE OR CC)
Step 2 - Go to Below site.. Click To Go To Offer Site…
Step 3 - U Will See Orange Section on The Webpage, Fill In Your Edu Address..
Step 4 - Then Select Student.. And Other Shits They Asking you ..
Step 5 - After Doing Finishing EveryThing.. You will Get Code On Email On Edu Mail..
Step 5 - Login To Office 365...
Enjoy Your Lifetime Office 365

:
EDITED By @SaM: It's a Giveaway, it can get expired anytime, avoid complaining and read the FAQ for the final answers.