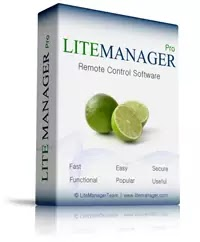 LiteManager Pro— remote access software for remote administration of computers over the Internet or remote control in a local network, for distant learning, providing remote support to users and supervising work activity of employees.
The program allows to quickly and easily control computer desktop in real-time mode with full support for Windows, provides secure remote access to the file system, processes, and services of the remote computer. LiteManager has built-in tools for creating network maps, collecting technical data, the ability to deploy and update using remote installation services, configure private ID router (NOIP), and many other features. Classroom management software.
Features:-
You can control and view the desktop of a remote computer. Remote Desktop Control.
File manager for working with files and folders.
Remote task manager
Power management
Text chat and audio and video chat
Telnet control of computer via command line.
Device manager and inventory.
Screen recorder.
Network map.
Connecting a server with a dynamic IP address and cascade connection functionality allows us to work in complex networks.
Remote installation and update.
Server search.
Registry editor.
Connect by ID and NoIP application.
Software:-
Download- Link
Follow the instructions for installation written in the readme.txt present in the zip file.
Note:- As it is a giveaway software activate ASAP.
Enjoy!