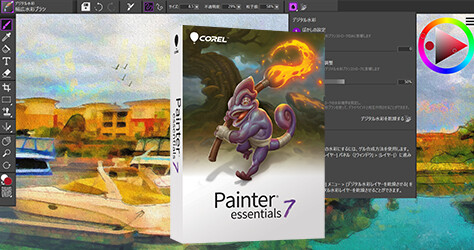 Corel Painter Essentials 7 is custom designed to inspire you to freely create a blank canvas and photo art creations using Natural-Media brushes. As an intuitive paint program, Essentials offers a welcoming environment that will encourage you to have fun while using powerful and realistic art tools to reach your goals.
Corel Painter Essentials 7 is the most popular painting software on the Mac. Paint almost like on real canvas and choose from a variety of tools. Whether watercolor, chalk, pencil, or oil – the painting styles react like on real canvas. A special highlight is the "Automal" function, which transforms your digital photos step by step into paintings with a mouse click.
Main Features
Dry Natural-Media
Wet Natural-Media
Signature Painter media types
Smart photo-painting tools
Tracing and cloning images
Symmetry painting
Drawing tablet support
Superior speed and performance
Operating System
Windows 10/ 8.1/ 7 (64-Bit)
macOS 10.14/ 10.13/ 10.12/ 10.11
How to get the Corel Painter Essentials 7 license key for free?
Turn a photo into amazing oil, pastel, or impressionist work of art, or use pencils, pens, or particles to paint, draw and sketch on a blank canvas with Corel Painter Essentials are so easy.
Follow these steps below to grab this software for Free:
Step 1. Go to the promo page: Click here
Enter your email, check into the checkboxes and send it
Step 2. Check your inbox and confirm your subscription. New windows will open, let's copy your Corel Painter Essentials license key
Step 3. Download the installation file —> Windows +++ Mac
Install the software and activate it by the above your key.
Step 4. When you open it, please insert your email address to create a Corel account and register the software
Step 5. Now you can enjoy Corel Painter Essentials 7 for a lifetime free with full functions!
This is a lifetime license for Corel Painter Essentials 7
No free updates and technical support
ENJOY!