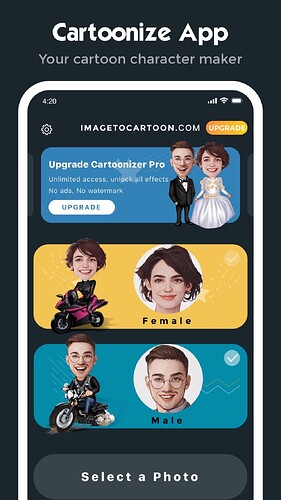 Along with enhancing the photos you take with your Android or iOS devices, you are able to use photo editing software to help your turn a photo into a cartoon. Cartoonize is a wonderful cartoon character creation tool that can help you create your own cartoon characters from your pictures. It can cartoonize itself and make a cartoon portrait quickly in an AI-smart way. You will enjoy this photo editing not only for the ability to generate humorous images but for the great cartoon effects as well. Needless to say, inexperienced photo editors can use this tool because it works great for making funny pictures to upload on social networks without much effort.
Key Features:
Cartoonize is a super easy-to-use cartoon app that turns your photo into cartoons
It can instantly help you make awesome cartoon portraits of a hand-drawn quality
You even are allowed to choose different cartoon results and add a cartoon background by yourself
It comes with an effect library including a number of effects you can use to turn a photo into a cartoon.
Supported OS: Android and iOS
Price: $48.99/ lifetime
How to get the Cartoonize license key for free?
Step 1. Download PhotoAI for Mobile here –> Android iOS
Step 2. Open the app and long-press the "Subscription" button in "Option" for 3+ seconds, and entering the code will activate the account.
Code
TickcouponCartoonize
Step 3. Enjoy it for a lifetime free!
This is the lifetime PRO subscription for Tickcoupon readers
Non-commercial usage
Code times: 50000
The giveaway will start from the 19th till the 26th of April
Enjoy!