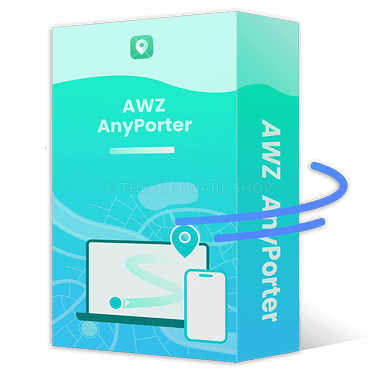 [Giveaway] AWZ Anyporter Pro | 1 Year License
If you have been searching for a change location software that easily allows you to change location on iOS devices to simulate real movement, then AWZ Anyporter – spoof location in Windows/ iOS – is your pick. With the advanced location changer solution AWZ Anyporter offers, you can switch your location from a different location in Windows/iOS, mock location on game apps, simulate GPS movement, and more.
In fact, AWZ Anyporter can fool the GPS on iOS devices including the iPhone, iPad, and iPod, you can use it to enjoy playing AR games like Pokemon Go, or social apps such as Snapchat, Life 360, etc. There are three spoofing modes available: Single-Stop Mode, Multi-Stop Mode, and Jump Teleport Mode for spoofing location. The Single-Stop Mode will construct a route and plan it, allowing the phone's GPS to follow it at a set speed. With the help of the Multi-Stop Mode, you can drop multiple points on the map to give the impression that you are moving between famous locations in a certain area. Additionally, the Jump Teleport Mode is incredibly helpful for quickly transporting your iOS device to any location in the world.
Key Features:
AWZ Anyporter allows you to change your iDevice's GPS location to any place in the world.
You can use it to simulate movement between different locations.
This tool helps you hide your iPhone location to protect privacy.
You are allowed to choose from various modes (such as walking, jogging, or running) and set your favorite speed.
It comes with joystick support for virtual movement.
This fake location spoofer tool does not require root access and works with iOS Devices (including iPhone, iPad, and iPod touch).
Supported OS: Windows: 11/10/8.1/8/7
How to get the AWZ Anyporter license key for free?
Step 1. Download the installer for AWZ Anyporter version 3.0.2 –> click here
Step 2. Install the software on your computer. If you already have an AWZ account, log in with it. If not, establish one now.
When logged in, select "I have an Activation Key" and then enter the AWZ AnyPorter Pro license before selecting the "Activate" option.
License code #1: m-awzap-winx
License code #2: m-awzap-chipcz
If you already have the PRO version, you can click on the "Manager My Account" on the subscription windows or visit the user center —> click here.
Please insert the activation key in the "Redeem Activation Key" section and tap on the "SUBMIT" button.
This is a 1-year license
You will get a free update
No technical support
Please register before October 15, 2023
Enjoy!