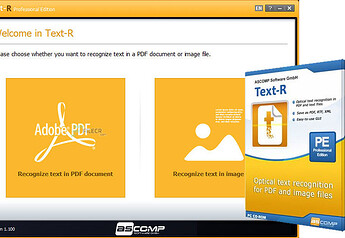 Text-R is the software that also recognizes text in PDF files and images that can be operated immediately for the layman. The text can be saved in a new editable PDF or RTF document (Word).
Giveaway details
EZABW-UAY71-D6EHG-ONSALE
Download: (on your account page)
Terms of the offer
This is the lifetime license for 1PC
Non-commercial use
You get free updates for six months
You get free tech support for six months
Register before this offer has ended
Source giveawayoftheday
Instructions
Enter your information on the giveaway page, check your mailbox for the ASCOMP login information OR use your existing account.
Just download the ASCOMP Text-R Pro full version on the ASCOMP reseller area, install it on your computer and enjoy!
Feature Highlights
Recognize text in PDF and image files
Formatting stays close to the original
High accuracy in text recognition
Skewed texts and rotated documents can be detected
ENJOY!