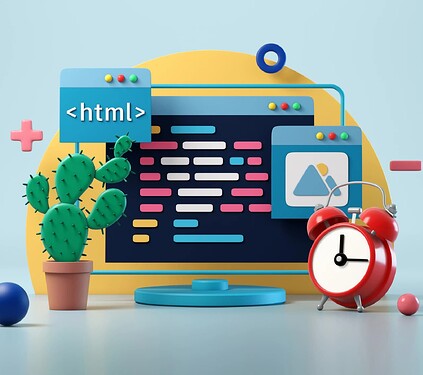 Amazing Tools And Resources For Website Creation

If my web designers friends are still looking for free resources, they need to look at this comprehensive list of excellent website-building tools. From website builders and marketing tools to premium WordPress themes, you can find everything on the list.
1. Wix – Page Builder
A platform to build your website for free, Wix is a cloud-based developer tool that anyone can use to create a professional website or online store. It offers 500+ beautiful templates that can be completely customized and incorporated with useful features.
With an intuitive drag-and-drop editor, you can add different design elements to your site, create a professional logo with a logo-making tool, get a custom domain, and optimize your site for improved SEO and mobile viewing.
Wix's website creation process is also pretty simple, pick a template, modify or add elements, and put your site online. You can check your website's performance through Wix Analytics to make data-driven decisions for improvement.
BrandCrowd is a superb online logo maker that features the world's largest DIY logo library (over 50,000 designs) and is the only platform with all the icons handcrafted by designers.
On this platform, you will find logos created with gorgeous icons and free icon libraries. The quality of these logos is outstanding, as if created by professional designers. And the price is almost nothing for such fine quality.
To use BrandCrowd, write your business name or select the industry you are in. Within seconds, the platform will show you thousands of logo design ideas. When you see the one you like, click the Edit button and customize it. You can change text, fonts, colors, background, and layout and even request complex edits (you will hire a BrandCrowd in-house designer for that).
3. pCloud – Cloud Storage Service
Cloud storage is the future, and pCloud makes it easy for all of us. It is Europe's most secure cloud storage, is super easy to use, and offers the best free plan in the market — up to 10 GB of free cloud storage for a lifetime.
pCloud works on all OSs (Windows, Mac, Linux, etc.), mobile devices (iOS, Android), and the web so you can access and store your files with any of these devices. The sync and backups are made in real-time, so any modification you make will be instantly seen on all the other devices.
Regarding computer backups, pCloud lets you choose any local folder to be backed up. The backups are made automatically, in real time, and you can access older versions for up to 1 year.
As for file sharing, it offers many interesting features, such as password-protected download, expiration date, and upload/download access.
pCloud offers a free version – with limited features – or pick the premium plan with advanced features, one-time payment, and a bundle of features.
Total is a WordPress theme with many features. There are 40+ high-quality pre-made designs that you can install with just one click, and your website will look exactly as in the selected demo.
The theme is bundled with 3 premium plugins, namely Visual Page Builder, Templatera, Slider Revolution, and a lot of customization options.
5. 99 Robots – Marketing & Dev Service
99 Robots is a premium digital agency that will stimulate your online growth. They help you manage Amazon, Facebook, and Google PPC ads and WordPress development and web designing services.
The agency specializes in creating stunning websites optimized for SEO, traffic, navigation, and sales.
6. Mobirise – Offline Page Builder
Mobirise is an offline website builder to create a stunning website for your project, no matter which industry you are in. You will find over 4,000 awesome website templates and tons of elements to create stunning websites on this platform.
7. Argento – Magento Theme
If you need the best Magento theme for your store, look at Argento. The theme looks very professional, loads lightning-fast, s easy to customize, comes with free installation, and includes seven unique designs to choose from and 20 extensions that will add tons of cool functionalities to your store.
8. Taskade – Productivity App
Taskade is a free productivity app for the web, mobile, and desktop to collaborate with your remote teams. The platform is simple and intuitive, and you can create a unified workspace for remote teams and projects, keeping everything well organized.
9. Codester – Codes/Templates Marketplace
Codester is a popular marketplace filled with premium PHP scripts, apps, codes, website themes, and much more. They have a Flash Sale section where hugely discounted items are being sold.
10. Deeezy.com – Design Resources
To create a super website, you need super graphics, fonts, photos, templates, textures, etc. You will find all these high-quality creative resources here on Deeezy.com.
11. Goodie – Web Dev Marketplace
Goodie is a professional web development service by the famous Xfive company. It will help you with simple websites, WordPress development, newsletter designs, and much more.
12. Ampfluence – Social Growth Service
Ampfluence is a highly popular agency that will grow your Instagram account using the right methods, no bots or gimmicks. They have huge experience in working with all kinds of companies and brands, delivering outstanding results.
13. Mailmunch – Email Marketing Tool
Mailmunch will exponentially grow your email list by helping you create stunning forms and landing pages. The feature-rich platform contains tons of highly customizable templates and thousands of royalty-free photos. Also, the interface is super intuitive to use.
14. Unlayer – Email Campaign Tool
Unlayer is an email editing tool capable of boosting your email marketing campaigns to get more qualified leads. The software offers multiple drag-and-drop design features to build beautiful emails.
15. Ramotion – Design Agency
Ramotion will help you with brand identity, UI/UX design, web design, and app development. They will take your company to the next level in creating a solid online presence.
16. Miquido – Software Dev Service
Miquido helps you design visually stunning, functional, and user-oriented websites or mobile apps, develop future-oriented software or deploy a cloud. They excel in UX/UI design, product strategy, custom web, and mobile development.
They have over ten years of experience, and they created over 150 digital products, being one of the leading software development companies in the world.
If you have a WordPress website and you want to manage customer support emails directly from your website quickly, get the Heroic Inbox plugin. The plugin is feature rich and very simple to use.
18. FoxMetrics – Data Analytic Tool
FoxMetrics is probably the most user-friendly web analytics platform. The platform enables you to understand who your customers are, where do they come from, where do they end up, and if your marketing efforts are succeeding or not.
19. Landingi – Landing Page Builder
Landingi is the quickest and easiest-to-use landing page builder. It contains over 300 gorgeous landing page templates, tons of elements, and an intuitive drag-and-drop builder.
20. Astra – WooCommerce Theme
Astra is the best WordPress theme for WooCommerce, loaded with the latest technologies and a stunning design.
21. InvoiceBerry – Invoicing Software
InvoiceBerry is a great invoicing software that focuses on helping small businesses get paid faster. It is a great fit for small companies from any industry and is very simple to use, having a super intuitive interface.
22. Pixpa – Portfolio Builder
Use Pixpa to create all-in-one websites — website, store, and blog. The builder is straightforward to use, and it includes stunning templates to start with.
23. Antideo – Customer Data Validation API
A lot of business resources get wasted because of spam and fake inquiries, and some of the repercussions can be felt long-term. Antideo addresses this by validating customer data points to block out spam or fake inquiries in real time.
24. Audacix – Software Testing Tool
Audacix helps you maximize your profits by shipping software with zero bugs and zero vulnerabilities. They can help you build unhackable SaaS and cloud apps.
WrapPixel offers some very cool react templates. All these templates are responsive, pixel-perfect, and contain many stunning elements.
Soft UI Dashboard is a free Admin Template created by a talented developer named Creative Tim. Even if the dashboard is free, it offers high-quality features and is pretty easy to use.
27. RumbleTalk – Group-chat Platform
Use RumbleTalk to add a moderated chat on your website, in a matter of minutes, without writing a single line of code. You can start with the free plan with limited features, and if it works for you, you can go for the premium version.
Tailwind Figma is a premium set of UI components and pages created in the popular Figma design software and optimized for Tailwind CSS utility classes. It contains many of stunning elements and other cool stuff.
29. Acowebs – WooCommerce Plugin
Acowebs is a leading WooCommerce plugin developer with more than 50,000 active users across the globe. It offers many plugins and add-ons to optimize and manage your eCommerce website.
30. XStore -WooCommerce Theme
Either you want to start a new store or need a better theme for your existing one, XSTORE is the right WooCommerce theme. It has 100+ shop designs and multiple features to manage a successful online store.
31. Modalova – Online Store Theme
Modalova is a high-quality online fashion store. It has a huge library of 2 million products with a fast loading speed and is responsive so it looks great on all devices.
32. Icons8 – Design Resource
Icons8 is a universal resource for designers where they can find almost everything they need for their job. This includes over 160K icons in 35+ styles, thousands of eye-catching vector illustrations tons of professionally made stock photos, a next-gen graphic editor for professional design, free background remover, Smart Upscaler for image enhancement, and even royalty-free music.
33. Qwery – WordPress Theme
Qwery is a modern and multi-functional WordPress theme featuring a fully responsive design that looks great on retina screens. The theme installs with a single click and can be customized in the intuitive drag-and-drop mode of the Elementor page builder.
There are plenty of ready-made pages, blog and portfolio layouts available in the theme's download pack. It also features a collection of 30+ demos skins matching a wide range of topics. There's also a booking plugin, events calendar, newsletter subscription forms, and popups to your site.
34. Helion – WordPress Theme
Whenever you need to launch an online portfolio website, the Helion WordPress theme will come in handy. It's a trendy and stylish WordPress theme that you can adjust to match a variety of topics.
It's a multi-purpose solution featuring demos for design agencies, RTL homes, photographers, musicians, videographers, graphic designers, architects, concept artists, character designers, motion graphics, showcase, and copywriter needs.
Moreover, the theme's layout is flexible and dynamic, and you can easily personalize it with the built-in Elementor page builder.
35. Hoverex – WordPress Theme
Hoverex is a multi-purpose WordPress theme for ICO and cryptocurrency businesses. It's feature-rich and includes WPBakery, Give Donation, MailChimp, Slider Revolution, and other handy plugins that let you boost your site's performance and deliver a better user experience.
It also lets you choose the header and footer builder to create unlimited and versatile design options for your site. Hoverex features a fully responsive layout that is also Retina-ready and cross-browser compatible.
Additionally, the theme is translation-ready and multi-lingual, with English and Spanish locales pre-loaded in the theme's download pack.
36. Kicker – WordPress Theme
Kicker is a multi-purpose WordPress theme. It is an all-in-one package of ready-made designs and can work for launching a personal blog, news magazine, or any other kind of media website.
It includes a set of topic-specific demo skins. Thus, you can use the theme for fitness, fashion, technology, game portals, and other purposes. Using the Elementor page builder, you can apply changes to any of the ready-made demo versions or pages without needing to touch a single line of code.
Kicker also lets you modify the header and footer actions of your site code-free. The theme includes plenty of other customization opportunities. It lets you adjust the colors, fonts, sidebars, menus, ads, banners, popups, newsletters, etc.
WhatFontIs is the best font identifier in the market. It can identify free and paid fonts, has the largest database of over 790K indexed fonts, and can identify fonts from pictures and websites.
Here is a super freebie — a set of standing branding stationery mockups. This is a smart-object layered PSD file that allows you to edit and add your own branding to the designs easily.
The elements in the mockup include A4 letterhead, and vertical and horizontal business cards. This mockup set is handy in showcasing your branding design.
You need a beautiful logo design, and you want it to be designed by a real person and not by AI software? The Freelance Logo Design platform will help you with that.
All you have to do is name your logo's price ($50 minimum), and in 24 hours, you will get ten professional logos to choose from.
40. Wiremo – WordPress Plugin
Wiremo is an AI-powered review app for managing product reviews, Google seller ratings, and customer feedback. It features automatic replies to reviews, opening conversations, and setting up triggers to get a timely response to your consumers.
ENJOY & HAPPY LEARNING!
Appreciate the share & feedback! don't be cheap!