How to Rip and Convert DVD to MP4:
• Fire up DVDFab 9/10, choose Ripper option, and load in the DVD
Start up DVDFab 9, choose Ripper option on its welcome screen to go to the Ripper interface. Then insert the DVD you want to convert into optical drive, and seconds later it will be loaded in as showed below. The main movie title is auto selected, and you can change audio tracks and subtitles freely.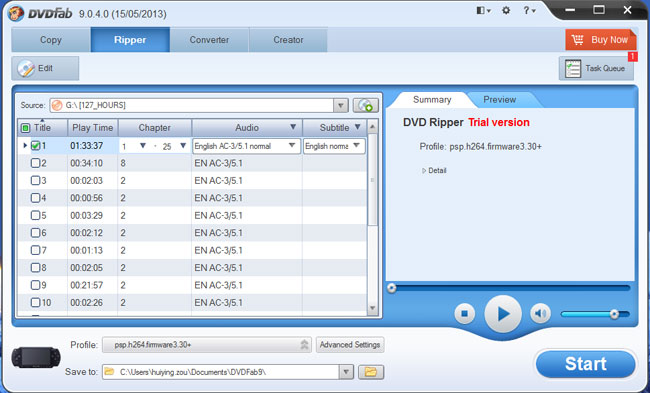 • Select an MP4 profile
Now click to open the profile list, in which you can go to Format to choose one mp4 profile. Any mp4 profile listed here is OK. Just select your favorite one.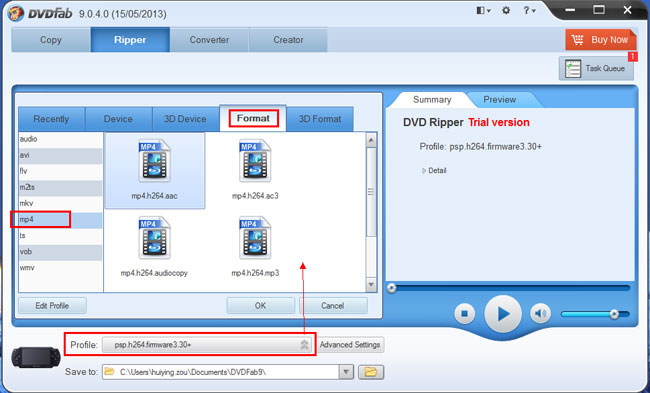 • Freely customize
After the MP4 profile is selected, let's click Advanced Settings button to set video and audio parameters as you like, or just leave them there since the default configuration work well if you have no specific requirements.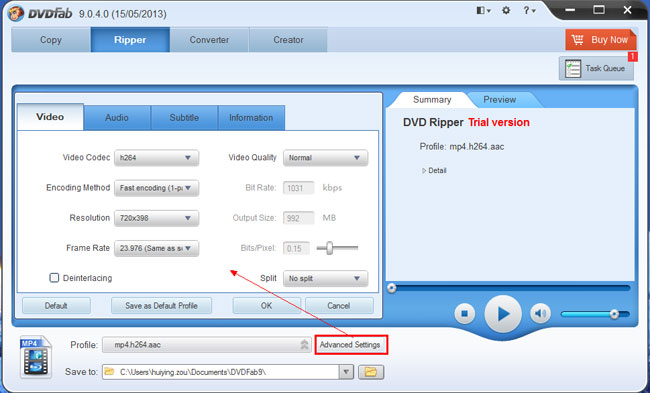 • After parameters settings, if you want to resize or crop the video, just click Edit button to open Video Effect window. You can resize the source aspect ratio and the frame resolution; and you can also crop the image for display right here.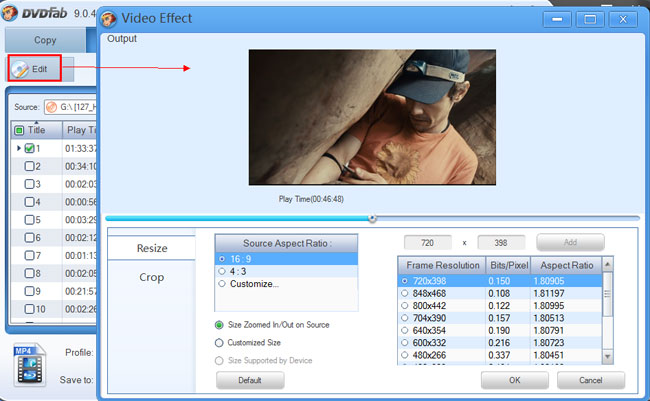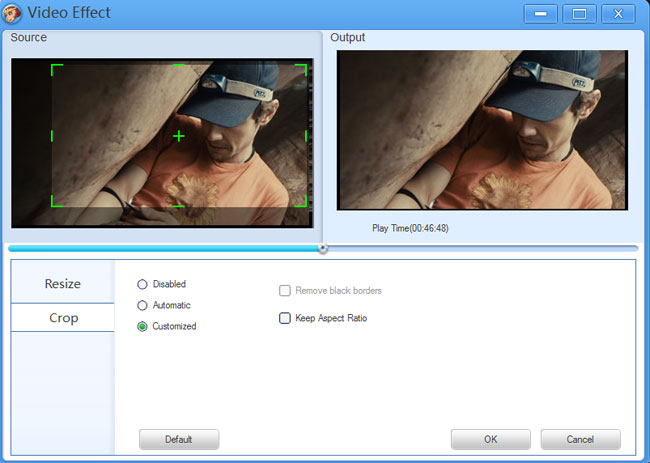 • Start conversion
Alright, now just preview the title in real time to confirm your settings and selections. If everything is OK, go ahead to click Start button to start conversion.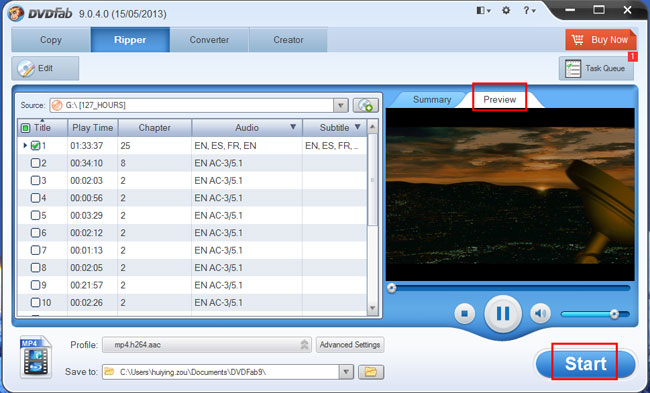 • During the conversion process, you can view detailed progress info, and even preview the progress with real time images.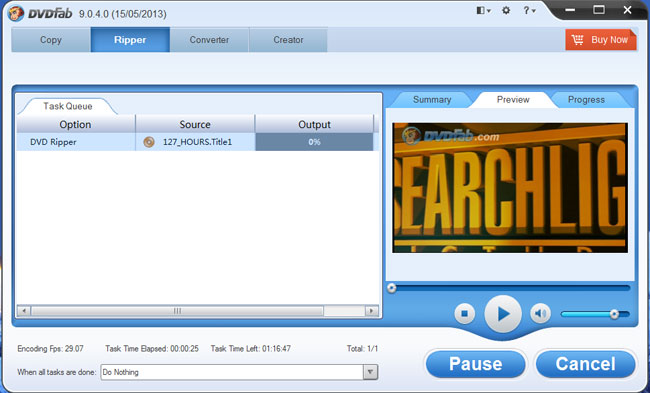 OK. Now leave the rest to DVDFab 9, everything will be done soon. After successful conversion go to destination folder and enjoy.
How to rip a DVD with Handbrake:
• To rip a DVD you have to download specialist software, don't panic though, we've found some DVD ripping software that is free and works brilliantly. Simply go to Handbrake official site and and select the link for your operating system (Mac, PC and Ubuntu), then install the Handbrake software when the download is complete.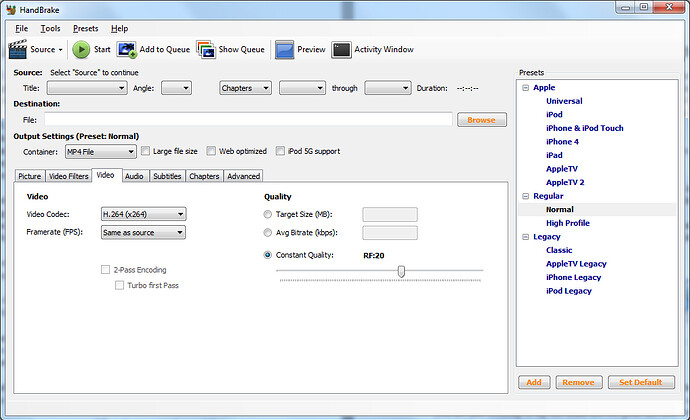 • If you are looking to rip an encrypted DVD, grab a DVD decrypter such as DVD43 to circumvent the built-in disc restrictions.
• When you launch the HandBrake program, click the Source button and select the DVD from the drop-down menu. HandBrake will then scan the disc for titles to copy. This step can take some time, depending on how much data is on your disc.
The Source selection menu.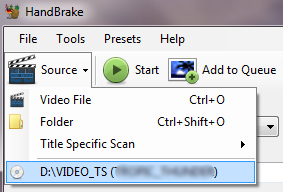 • When HandBrake has finished its scan, click the Title drop-down menu to choose the section to copy. This step can involve a bit of trial and error; generally speaking, though, if you want to rip the main movie, select the title with the longest run time. Otherwise, you might end up with a rip of the previews or the menu screen, but not the actual movie.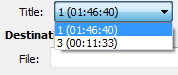 When in doubt, rip the longest title–that's most likely the actual movie, not the trailers or special features.
• Next, look at HandBrake's preset menu on the right side. It has a list of preset outputs for a slew of Apple devices (which tend to be finicky about the kinds of movie files they'll play). If you don't intend to use any of the game consoles or iOS devices included in the presets, you can manually arrange your own settings by choosing Normal or High Profile.
• The Video tab lets you fine-tune your project, and has some options that will allow you to adjust the final quality of your movie. Just remember that the higher the quality, the larger the file size. If your device is short on storage space, try the Target Size option to have HandBrake rip to your storage requirements.
• You can tweak the audio quality under the Audio tab. Here you can select different bit rates and Dolby processing, but the default settings are often good enough.
• If you are ripping more than one title, click Add to Queue; otherwise, click Start, and watch the magic begin.
I'm sure this tutorial can help you to Rip & Convert DVD's. No Doubt Nowadays We Have Few More New Softwares To Do This Job But No Doubt These 2 Programs Stand More Popular & Powerful To Do This Job. and this Tutorial available under my username at other torrent sites. I'm not sure to provide link from other sources so i just made it here manually. Good luck!
Download Handbrake: https://handbrake.fr/
Download DVDFab: https://www.dvdfab.cn/download.htm
Download DVD Decrypter: http://www.dvddecrypter.org.uk/
Best Regards!