Are you a freelancer or working from home and looking for legitimate ways to make more money online? Here I have listed the best micro job sites to find a way to make real money by sitting on your couch that is micro jobs.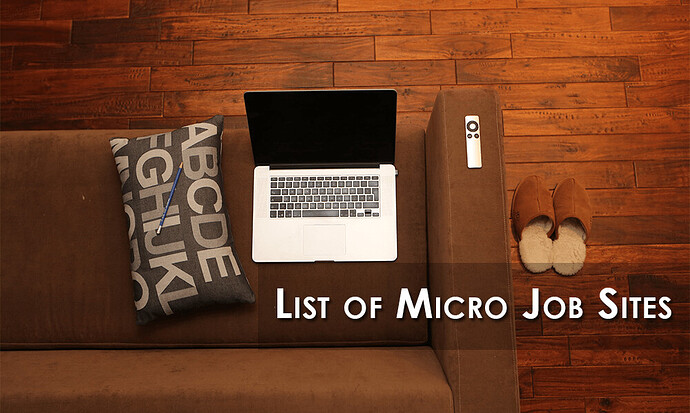 In times gone by, you possibly had a job or didn't. Of course, there are many of the people out there who are freelancers or independent contractors. However, most of them are either punched the clock or endured in the unemployment line. All of those factors now changed with the "gig economy" which is the advancement of companies which tap into the casual or spare-time labor force such as Fiverr or TaskRabbit.
Now, there might be about hundreds of gig-sites, or micro-jobs sites are available. But which offer the best freelancing experience? I sourced reviews to check out the top choices.
The site that I am going to list here are legitimate, and you can make real money by doing micro-jobs on that. All they need is signing up, and it takes minutes. Even they all add tasks that don't need specialized skills or training.
Below is the list of micro job sites. These are small micro-tasks or gigs that pay equally small amounts. However the tasks are not that hard, the pay is low. So before getting started checking out these micro jobs, I want to first take you to what are micro jobs and how much can you money by doing them?
What are Micro Jobs?
Micro jobs are small jobs, and they are also very well-known as micro-tasks or micro labor. These tasks that provided by the sites or companies can be finished in a few hours or days. So once you have completed doing your job, you get paid for those tasks, and the contract terminates.
So overall the concept of the micro jobs is to receive a small fee for a small task which is runs across many possible kinds of micro jobs.
The micro-task can be anything like online tasks, real-world tasks, crowdsourcing projects, website usability testing, an online services marketplace, reward programs, surveys or anything can be the micro jobs. So basically there is no long-term commitment in case of online micro job chances. It gives you freedom. There is no need to go to the office, and you can manage your own time, and this is it you are your own boss.
How Do Micro Jobs Pay?
Typically, these tasks pay the very small amount, but they should need very little time. Tasks may pay you anywhere from 1 cent to $50, and the strategy is that the worker need should be in proportion with offered fee. That said, to earn money you need to work fast and take on as many as tasks as you can.
Due to the fact is these are done on a contract basis, there is no guarantee that these tasks pay minimum wage.
Most of the companies pay cash but some pay in something other than cash such as gift cards, services, reward points, bitcoins and all. Often the payment is determined in US dollars, but it can be converted into a different currency when paid into a PayPal account.
Micro Jobs Site List to Make Money Online
Now you know what micro jobs are and how do they pay you. Now, this is time to look forward to the Micro Jobs Sites. Let we get into them.
Clickworker uses a crowdsourcing platform to distribute jobs to its click workers. It offers part-time employment of translation, writing and data entry. This is site is available in English, German and Polish languages.
On this site, you can apply for all free, and then you can apply for getting small tasks like online research, text creation, editing, tagging data and data categorization. This site has more than 300,000 users who are taking micro-jobs and getting paid. The company pays monthly in US dollars or euros.
2. CrowdFlower
CrowdFlower is another great micro jobs that have 5 million contributors from 208 countries. This sire is somewhat like Crowdsource.com regarding user interface and the nature of tasks.
t provides instructions before accepting a task. You can pass a distinct test to prove your skills and to get more work from them. Their tasks are categorized into content moderation, data categorization, data collection and enhancement, sentiment analysis, etc.
Even this company partners with other micro job outfits such as Swag Bucks, Mechanical Turk or CoinWorker. Once you signed up with one of its over 15 partners micro workers can find its list of available tasks. The site pays through PayPal and even through other options.
This micro job site is well-known as MTurk and is owned by a famous online store Amazon. This is one of the best micro jobs sites out there. They offer small tasks such as conducting online surveys, transcription jobs, editing and writing jobs, writing comments on the blog, giving captions to photos, keyword searches, etc.
The best part about this site is that they pay in US Dollars, Indian Rupees or Amazon gift certificates and even depending on your location.
Their tasks are very known by the "Human Intelligence Tasks" that worker select and finish it for a set fee formerly.
EasyShift is basically an app for Android and iOS users. You can download this app on your cell phone and make points by successfully finish "shifts" and then acquire access to better-paying assignments.
The different types of micro tasks from this crowdsource offer jobs for consumer brands searching to track their products. Thus, photos of products with price checks are the primary attraction of this company.
Payments for shifts range from $2 to $20, and they pay in US dollars in PayPal account. Right now this is application is available only in the United States at this time.
Fiverr itself is the "world's largest marketplace for small its services". It is probably the best know online micro-task marketplace where member joins via Facebook then begin selling services priced at $5 and one that sellers receive $4 of that. Their categories of work add writing and translation, music, video and audio production, graphics and social marketing.
The payment is calculated in USD and paid through PayPay with a $1 or 2% fee (whichever is less) in the currencies which PayPal works with.
This is another mobile application that Facebook users can download and supplies free mobile service and digital downloads in exchange for playing games and videos and doing a survey and online tasks.
This application is available worldwide and through more than 300 mobile carriers, adding AT&T and Verizon. They pay in points redeemable for cell phone airtime or other services.
After Fiverr, this is another site, which is similar to Fiverr that is available in UK version. They offer micro jobs in online tasks or online services.
It sellers of online services offer tasks for £5, £10, £20 and £50. The site pays in Pounds through PayPal with 2% or £1 fee (any of them is less).
Inbox Dollars is a site that offers micro jobs in the form of surveys and reward program. You can earn a few cents for every single search performed or more by watching ads, shopping online, taking surveys, receiving emails, redeeming coupons and paying games.
On an important note, inactive account's payments may be given up, and the company charges a $3 payout fee. The company pays by check on a monthly basis.
Shopkick is a store that provides a micro job in the form of reward program, online and real-world tasks through a cell phone. You can collect points or "kicks" when you just enter stores like Macy's, Target, Old Navy, Crate & Barrel, Best Buy, Toys'R'Us and Exxon and Mobile Convenience stores.
With the use of the GPS on your smartphone, it grabs the idea of your location and sends you relevant offers. It provides scan bar codes for additional points and more points when you make any purchases. However to make more points by purchases you require to link your credit card to it.
This site has many excellent features which make it attractive both for the worker and companies as well. They offer to crowdsource micro jobs. When a company posts any task on MicroWork, they get a code that is called VCODE. If the company is satisfied with your work, at that time company provides the VCODE and that you need to submit into the website.
This improves the worker's profile, and it allows you to get more and better work in future. The job offering company can even use the geo-targeting feature to choose employees from a particular region or country. Even they allow job offering companies to choose workers of their choice.
Conclusion
These are few of the better websites where you can quickly search for freelance work and make real online income. Doing micro jobs have some of its own pros and cons. On one side, you get freedom from your routine of day jobs. However, on the other hand, micro jobs don't provide you the stability of a regular day job. These sorts of chances are good for those who have little spare time and wish to make online income.
Micro jobs sites can be the great place for you to utilize your skills and it can help you become more productive. So give these sites a try and let us know about your experience. You can even share other places for micro jobs that work best for you.
Source: medium
Happy learning!