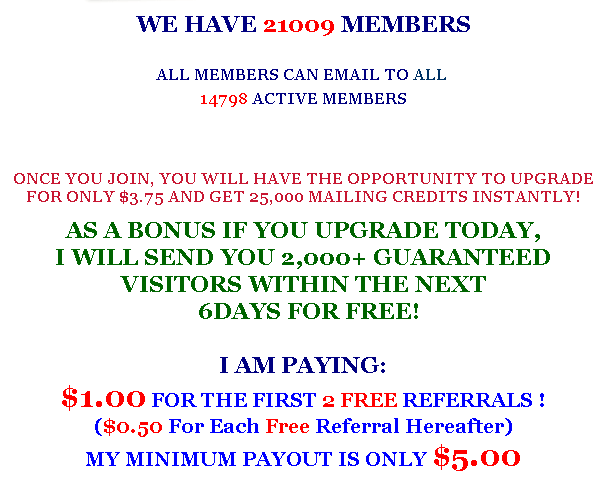 I am listing this method, because I haven't got any scam alert on the internet regarding the referral link program the website is providing,
The Alexa ranking is also pretty good, if it is a scam, until now someone would have mentioned the domain as scam.

It's Free! Why not just test this on our own?
Why should you try this method?
This method works, Guaranteed!
Guaranteed profit ($50 your week, and 300$+ monthly afterwards)
No investment required
100% Auto-pilot
Only a 5 minutes setup
Easy to understand
Newbie Friendly
It is the only method that works.
LET'S START:-
this eBook for free.
Step 5: Have you ever heard of www.scribd.com?
Basically scribd.com is a website that allows people to share and download
e-books for free. Make sure that you upload the eBook with your referral
link here. You will gain like 30-100 downloads daily if you upload the eBook
with your referral here.

Step 6: Another good website is www.slideshare.net. Slideshare allows you
to upload power point presentations. Open up your Microsoft PowerPoint
and paste all of the e-book information onto PowerPoint presentations.
Save the presentations and upload them on Slideshare. You will get like
30-100 downloads daily if you upload the eBook with your referral here.

Step 7: A list of websites where you can share free eBooks can be
found here (https://www.hongkiat.com/blog/20-best-websites-to-download-free-e-books/). Upload the eBook in as much as sites as
you can.

Step 8: Doing this you will start getting like 3000-5000 or even more
downloads daily to your eBook, and like 1000-4000 of the downloaders will
join your referral. This will make you like 250$-1000$ monthly (You will make
more money if you use more time to setup this Auto-Pilot)

Step 9: Sit back and watch your money rolling.

Step 10: Post the payment proof at the thread from where you got this
eBook.
Good Luck!