Bypass Windows 7 Extended Security Updates Eligibility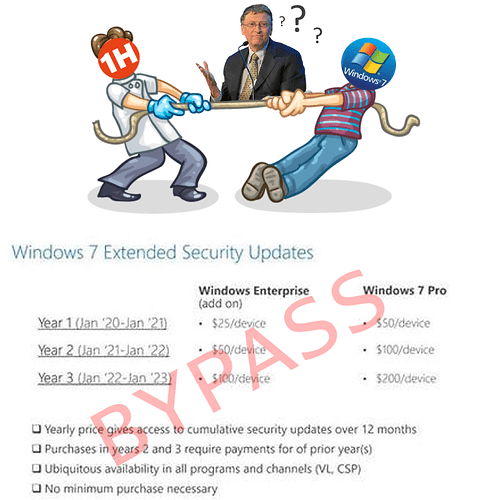 # Bypass Windows ESU
A project to bypass Extended Security Updates eligibility check for Windows 7 and Windows Server 2008 R2.
Win7/Win2k8R2 official support and updates ended on 14 January 2020.
However, Microsoft will provide additional 3 years of security updates to the organizations and businesses which have paid the license for the ESU.
More details:
https://support.microsoft.com/en-us/help/4527878
This project helps bypassing this restriction and install ESU updates without purchasing a license, as a proof of concept, non-profit, consumer-targeted.
## Important Notes
ESU updates are not supported offline (you cannot integrate them), they must be installed online on live system.
The ESU eligibilty is only checked during update installation, therefore, you can choose to keep the bypass installed, or remove it afterwards.
The bypass will only allow to install the ESU updates, it will not permit to get the updates themselves via Windows Update.
or follow this MDL thread

## How to Use
Extract the pack contents to a folder with simple path
Install: right-click on installer.bat and "Run as administrator"
Remove : right-click on remover.bat and "Run as administrator"
Note: If you have previous version(s) installed, you don't need to remove it separately,
scripts from latest version can be used to remove previous versions, or install on top of them.
## More Info
The project supports all Win7/Win2k8R2 editions , it consist of two tools that work in similar concept:
for ESU-supported editions, Custom slc.dll will be used
for all other editions, IFEO BypassESU.dll will be used
you can also force the use of BypassESU.dll for ESU-supported editions:
edit installer.bat prior running, and change set ForceHook to 1
Client: Professional, Enterprise, Ultimate (including N and E variants)
Server: Standard, Datacenter, Enterprise (including Full, Core and without Hyper-V variants)
ESU bypass tools comparison:
Code:
------------------- | -------------- | ------------------ | -------------------------
| Compare / Tool | Custom slc.dll | IFEO BypassESU.dll | Avfr gesu.dll (deprecated) |
| --- | --- | --- | --- |
| Supported Editions | ESU-supported | ALL | ALL |
| AV Interoperability | Safe | Unfriendly | Friendly |
| Performance Impact | None | Slight to None | Slowdown TrustedInstaller |
| ------------------- | -------------- | ------------------ | ------------------------- |
Avfr gesu.dll is deprecated and no longer works.
Source code included in bin\src folder
For extra info, see ReadMe.txt
## Credits
Custom slc.dll : IMI Kurwica
BypassESU.dll : MDL Collaborators
superUser : mspaintmsi
Download
Code:
   File: BypassESU-v4.7z
  SHA-1: 1ab6da15de065e0d5a414293902b671de11bb067
SHA-256: be52204bd904643afb45f0fe0321e31942476a8819a8dd6e441040a90e377027

7z file password: 2020

https://gitlab.com/stdout12/adns/uploads/a5e6f92977995f8561a5750026d1982e/BypassESU-v4.7z https://app.box.com/index.php?rm=bo…mwl444zhvr1ii07dz0w023&file_id=f_600531452819 https://drive.google.com/uc?export=download&id=1NsQK1e4bOKDa2dQFxGTmc4m4zprzluMn https://host-a.net/f/239599-bypassesu-v47z https://www.solidfiles.com/v/mDjg2d2wWaNm2
https://www.solidfiles.com/v/mDjg2d2wWaNm2
http://androidhost.org/LcqmnIc
Source: abbodi1406 & notebookcheck