plz help me i need software or tool online to create automatic account in facebook
Possibility 1:
This software TextNow Bot, can easily solve your problem out.
It help you get a larger number of legit USA and Canada phone numbers, In this way, you needn't worry lack enough phone numbers to to verify accounts. Here are several advantages of TextNow Bot as follows.
It can help you save time. Just a few minutes are required to generate hundreds of phone numbers. Then Phone Number Verification is becoming much easier.
Safety is another advantage. Websites like google, facebook will fail to notice you're creating fake accounts.
It also can protect the customer's privacy. It allows you to use a temporary email address for registering a Textnow account.
Possibility 2:
In order to create multiple accounts You can get various Software in the internet for c but if you need a software reliable and easy to use you can go for Facebook Bot where you can have full satisfaction about the created accounts. auto SMS verification and auto proxy IP system assure that you aren't getting troubled for the bulk account you have created in upcoming days . In short you get full verified account and ready to rock and roll….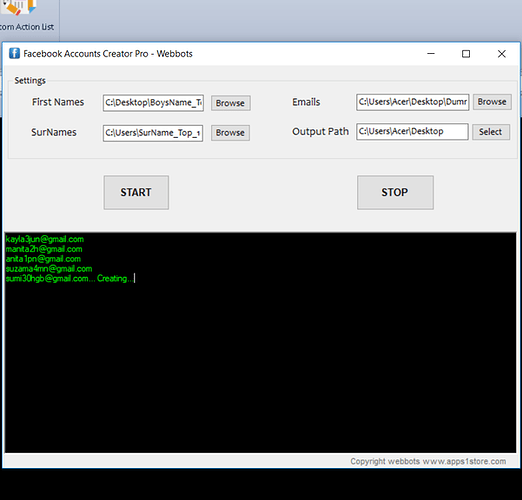 Possibility 3:
MASS Facebook Account Creator is a light weight and very easy to use application that will help you to create multiple Facebook accounts with ease. With this application you can create Facebook accounts without data typing and without any copy paste method.
Possibility 4:
PVACreator Facebook version for bulk account creation.
PVACreator is a super accounts bulk creating machine that can create phone and email verified accounts for different sites. It can also solve captcha automatically and allow you to import proxies to register accounts.
Smart Task Manager
PVACreator allows you to create/manage/run/pause/resume multi-accounts creating tasks at the same time. Every task has full stats of account creating, you can manage and check everything easily.
Auto/Custom Data Settings
PVACreator can create randomly datas like first name, last name, gender and age etc… to create your accounts, you can also import yourself data to create your accounts.
Captcha Auto-Solving and Proxy Support.
It can solve captcha automatically when register accounts, and you can import proxies to use in PVACreator for creating many accounts.
Possibility 5:
Facebook Account Creator Bot 2.0
Facebook Account creator bot is a free tool that allows you to create Facebook accounts. It comes with optimized scripted patches so that everything will work smoothly. It features a really snappy, fast and clean user interface and no hidden features or costs.
Good luck!