It would be pretty difficult to do that if you have no knowledge of how to do that. Yes, tutorials can help. Bet you will need a lot of time to understand programming languages and how to use it while creating a bot, then how to create a bot in general, then test it and so on and so on.
Depends on what you want to achieve with the bot. There are legit apis that can be used to access Instagram and share your feed etc on your personal websites. Go to the developer section of Instagram. However these are extremely limited in terms of functionality when you compare it to twitter etc.
Otherwise, people do use simulation tools like selenium to replicate human actions. This, of course, comes at the risk of getting banned by Instagram if you don't know how to use them well.
The market is full of great Instagram bots, such as Jarvee or Gramdominator and I would suggest checking them out as a great example of how the bot should work.
Also, you might wanna try BotChief this software tool could help you to create your own bot without any coding experience.
& it could also help you to solve a lot of things, such as debug, Captcha, Web Analyzer,Basic Set of Commands etc.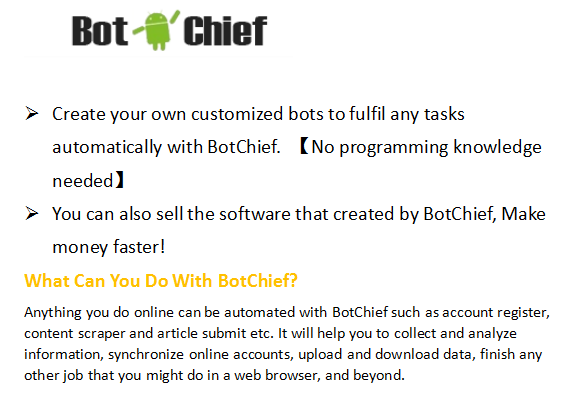 ---
For website to work like a tool for visitors, you need to build a web app!
What is a web app
An interactive computer program, built with web technologies (HTML, CSS, JS), which stores (Database, Files) and manipulates data (CRUD), and is used by a team or single user to perform tasks over the internet.
There is a lot of confusion around what exactly is a web app. For the purpose of this post, we feel our definition above simplifies what a web app is. If you're still unsure, we've included examples of what we believe are web apps, and what are not, below:
| Name | Web App? |
| --- | --- |
| ______________ | ____________ |
| Amazon | No |
| Wikipedia | No |
| Facebook | No |
| Google | No |
| Trello | Yes |
| Gmail | Yes |
| Notion | Yes |
| Pipedrive | Yes |