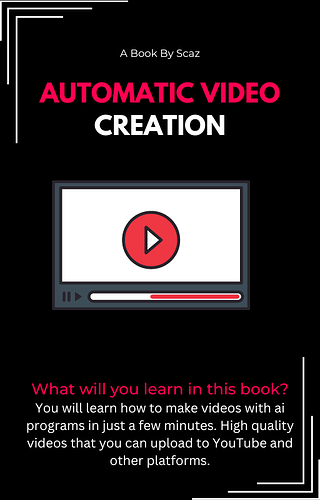 Scaz | How To Create Quality YouTube Videos In 5 Minutes | Giveaway

Automatic Video Creation
Have you ever wanted to start a YouTube channel but were put off by the fact that it would take a significant amount of time to produce quality content?
Were you held back because you had to speak, didn't like your voice, or didn't have a good microphone? And the majority of the voice generators you discovered are complete garbage that will never be monetized?
In this book, I'll show you how to create high-quality videos for YouTube in a very short amount of time, with a voice that sounds like a human (you'd never guess it was a robot). Furthermore, you will not be required to write a script for your videos.
GET ACCESS TO EXCLUSIVE CONTENT AND GET YOUR FREE EBOOK RIGHT NOW!
ENTER EMAIL AND GET IT DELIVERED!
ENJOY & HAPPY LEARNING!
Appreciate the share & feedback! don't be cheap!