NEW FEATURES ADDED:
Babble - A Chat Plugin (Right-click & Open in a new tab)
Overview:
Note: I will update this feature later time If it required extra explanation!
Babble - A Chat Plugin
Babble is a simple, lightweight chat plugin for Discourse. It re-skins the existing topic view into a sidebar, allowing for quick conversations in your forum.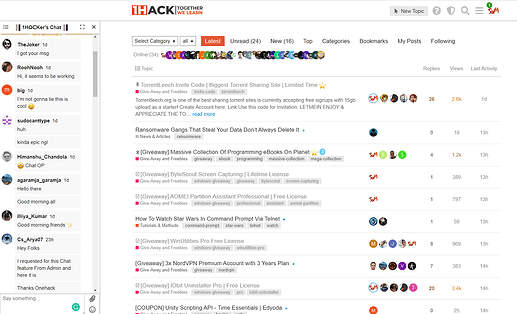 Current feature set:
Creating channels specific to groups or categories
One-to-one messaging
Emojis!
File uploads
Notifying other users via

@mention

Editing, deleting, and flagging posts
Toggle-able 'full screen' mode
Who's typing
Onebox support
Optional browser sounds for new messages
Integration with the Who's Online plugin for user presence
Per user settings:

Disabling the chat completely (for 'I hate chat' people )
Playing a sound whenever a new message or mention is received
Opening the chat automatically on page load
Chat Rules: All OneHack Rules Apply, Read the FAQ and follow the terms, means anything we don't allow on OneHack, do not discuss it under Chat. The Chat system used to use to stay in touch with friends & family.
Note: If you see any bug or error just have patient, it's still under-progress to fix a few things.
FEATURES AND CHANGES WE MADE RECENTLY:
Kindly, visit these, and get to know what we have released recently if you have missed them so far.
STAY TUNED, WE WILL UPDATE MUCH MORE IN THE FUTURE!
HAPPY LEARNING & ENJOY NEW FEATURES
Regards, OneHack Team!