Introduction |
Hi guys. I want to drop a quick guide. Today, I shall walk you guys through how to launch a Google Cloud Platform (GCP) VPS FREE for 1 year. It is another addition to my free VPS account series. I have shown how to get several VPS and RDP for free, the best app to manage all your VPS and RDP, and also how to launch an Amazon EC2 VPS instance for free.
Pre-requisites
A Google account.
A valid Credit Card (CC) which is used for validation. Your credit won't be deducted (at least for the initial 1 year) because you get to enjoy $300 from Google, valid for 1 year. You can always decide to cancel before the end of a year if you don't want to upgrade and continue using the services. This is more than adequate for your use. The provided CC is used to verify your identity and to distinguish you from robots.
Eligibility Criteria
You're eligible if you meet the following conditions:

You have never been a paying customer of Google Cloud.

You have never been a paying customer of Google Maps Platform or Firebase. If you have been a paying customer of either of these services, contact support.

You have not previously signed up for the free trial.

You have enabled billing for your account through the Google Cloud Console.

You aren't setting up a business account with a term sheet by working with a sales representative.
GCP Free Tier - Free Extended Trials and Always Free | Google Cloud
GCP Free Tier expands our free program in two ways. $300 credit in a 12-month free trial and Always Free. Learn more.
Important FAQ About GCP Free Tier
How long does the $300 credit last?

Your free trial ends as soon as one of the following conditions is met: 12 months have elapsed since you signed up or you've spent $300 in product usage. Your remaining credit and days are displayed at the top of the Google Cloud Console during your free trial period.

What happens after the free trial?

Once your free trial ends, you must upgrade to a paid account to continue using Google Cloud. To upgrade your account to a paid account, click the Activate button. Google Cloud services charge you only for resources you use. You can estimate the cost of using Google Cloud by translating your estimate of the resources you'll use into estimated monthly charges with the pricing calculator.
What happens if I go over the Always Free usage limits?
Any product usage beyond the free monthly usage limits will automatically be covered by the $300 free credit. After all credits are used, you must upgrade to a paid account to continue using the products. You can control costs by setting up budgets and alerts through the Google Cloud Platform Console.
How to Launch A Google Cloud Platform VPS FREE For 1 Year
Follow the video guide below to learn How to Launch A Google Cloud Platform VPS FREE For 1 Year. All the details are explicitly demonstrated for you to be fully capable of deploying your own personal VPS using GCP.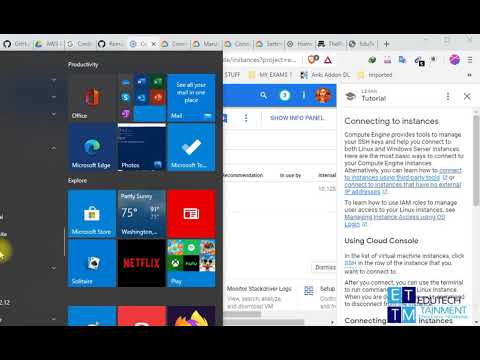 Conclusion
That's it, guys. Now you can easily launch and start using a VPS for FREE following this detailed guide. Don't forget to subscribe to my YouTube Channel and like my posts. Use the subscription box below to get notified as soon as we publish new posts. Drop your questions using the comment box below and I shall respond ASAP.
Read my other posts below to get all you need, and hit the ground running.
Cheers!!!
Over Every Possessor of Knowledge, There is (Some) One (Else) More Knowledgeable.