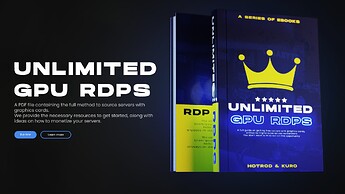 Extra information:
While these are RDPs, they are only designed to be used as high compute servers. This mean you should only really be using them for intensive CPU, GPU or RAM tasks, such as crypto mining, hash cracking, gaming, 3d rendering, captcha solvers such as xevil ETC,

The servers have 48 CPU cores, 4x24GB graphics cards, 192GB RAM. They get around 250 m/h on Ethereum using Claymore miner

Sharing our method is classed as scamming and you will be banned as a result.

YOU NOW NEED PROXIES TO USE THE METHOD
Credit @cracked.io
Happy learning!