Have you ever noticed how wonderful some Instagram images are? In some cases, you might wish to download some user's Instagram images. It may also happen that you would want to download your own Instragram photos in bulk, or even keep a backup of all your Instagram photos on your computer.
Fortunately, there are three easy ways to download Instagram images from your own account as well as anybody else's. These methods include downloading images from Instagram with or without third-party apps. So, let's take a look at these methods.
Disclaimer: You should not download photos and video content of any account illegally or without the owner's permission. And if you do have the permission, we encourage you to credit the owner visibly wherever you use their content. (Source: hongkiat)
Method
#1

– Bulk Download Instagram Photos with Chrome Extension

If an Instagram user has too many photos that you want to download, you can use Downloader for Instagram Chrome extension to easily bulk download photos from Instagram. It has a user-friendly design and the option to select the number of photos to download. Let's take a look at how to use it.
Step 1. Install the Chrome extension
Install Downloader for Instagram free extension for Chrome web browser.
Step 2. Bulk download images
Go to the Instagram user page that you want to download photos from and click on the down arrow icon in the top right corner. Now select the range of images that you want to download and click on the Download button.
Step 2.1. Download a single image
To download a specific image, just click the Download button at the top left corner of the image.
Method
#2

– Download multiple Instagram photos with Browser's Developer Tools

You may download any photo from Instagram using the Developer Tools in Chrome, Firefox, Edge, or Safari. This method is ideal if you only need to download a few Instagram photos rather than all of them.
Step 1. Find the photo you want to download
Go to instagram, search for the photo you're looking for and click on it. This will display the photo in its preview mode floating on top of the user's newsfeed, as shown below:
Note that the URL in Chrome's address bar has changed. Instead of the Instagram username URL, it will now show instagram.com/p/#### (Photo URL).
Each Instagram photo has its own unique web address, and if you go to the site directly, it will just show the photo without the rest of the news feed.
Step 2. Get the URL of the photo to download
Now right-click the image and select Inspect from the dropdown menu. This will open Chrome's developer console.
Even though Chrome DevTools is for developers, don't be intimidated. To find the photo, you only need to click a few buttons.
Next, click on the Sources tab at the top and then, expand the contents of the v directory by clicking on it. Each photo has its own folder where it is stored. Keep opening these folders until you find the full-size image. Once you find it, right-click the file and select Open image in new tab.
Step 3. Download the Instagram image on your Computer
Now right-click the photo and select the Save as option.
This way, you'll be able to see the full-sized Instagram photo (just like the image above).
That's all, you've got your picture and may now do anything you want with it (of course, if only the owner permits).
Method
#3

– Download Instagram photos with a web tool

Websites for downloading Instagram photos are one of the best solutions. They are very convenient because you can use them on any device, on your phone, laptop, or PC. Plus, most of them are really easy to use.

Typically, all you have to do is to copy and paste the URL and then click to download… For this guide, we will use the iGram site to download the photo.
Step 1. Select the image
Go to the Instagram user's account and select the image that you want to download.
Step 2. Copy the photo's URL
Click the options icon on the top right corner, then click "Copy Link" to copy the photo's URL.
Step 3. Paste the image URL
Paste the image URL in the box on the iGram website.

Step 4. Click Download
Click the Download button, select the photo's width: 1080px, 750px, or 640px, and your photo will download.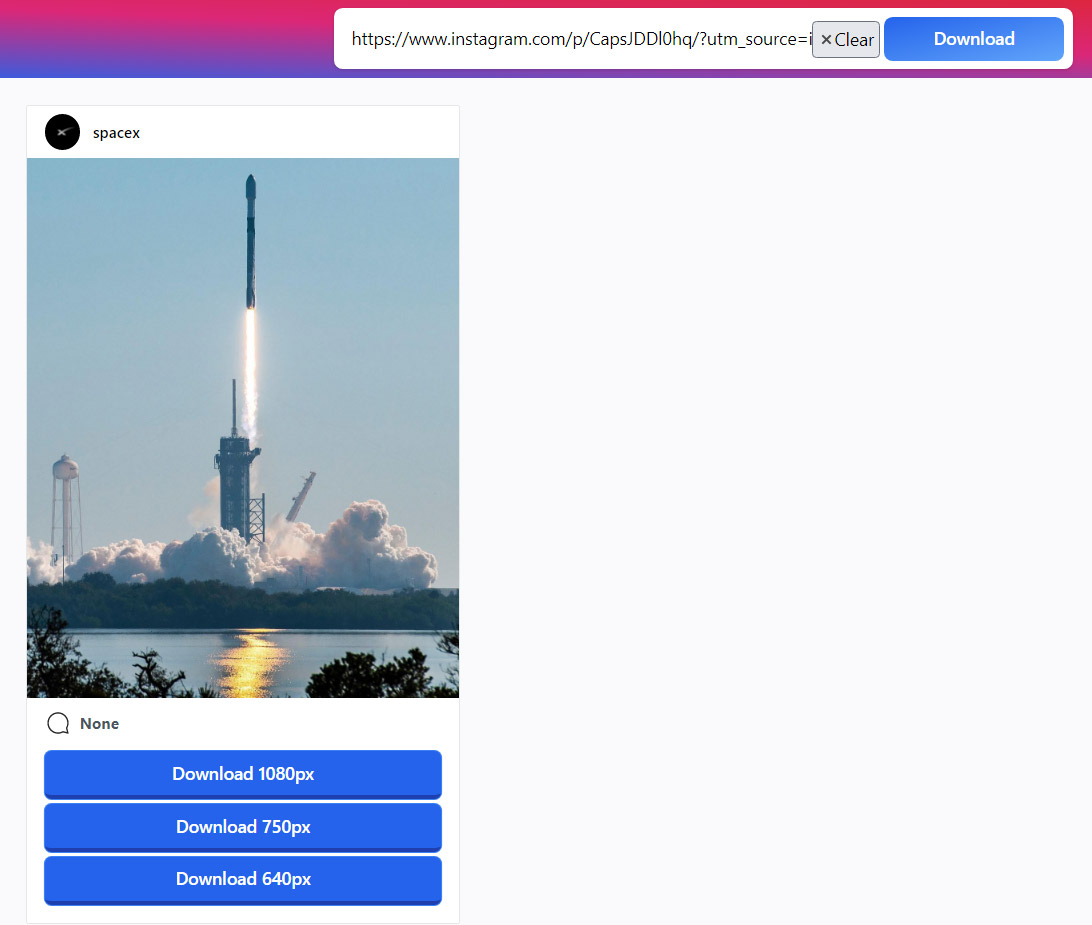 Conclusion
This guide tells you all about downloading a single or a batch of images from Instagram easily. It takes a little effort, but if you get the hang of it, you won't need to use a screenshot tool or go straight to Instagram to get these photos. And remember to credit the owner every time you use their content.