Hello, we at Henblack005 offer Edited fake ID documents such as Drivers Licenses, ID, Passports, Utility Bills, Credit Cards and Bank Statements of over 70+ countries for any type of Online verification. Some of the major countries are – USA, UK, Canada, Germany, France, Netherlands, Austria, Russia, Australia, Italy, Spain, Philippines and much more.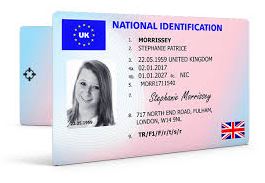 We also make Stealth PayPal accounts with edited documents (ID proof, Address Proof, Bank Statement); we specialize in Philippines and UK accounts. We also have virtual credits for PayPal and works in any country.
If you are Familiar with Photoshop we can offer the layered editable templates as well

Prices
Any Edited Document - $15
PayPal VCC - $8
Special Stealth PayPal Offer - $25 (Philippines Business acc + ID Proof + Address Proof + Bank Statement + VCC)
Editable PSD Template Country Pack - $10
Help and Support
We also provide 100% free support and advice to anyone with PayPal / eBay issues so feel free to ask any doubts you'll have

You can check out my history on the forum in case you don't trust me, I have helped a lot of people here and will continue to do in the future

We also have an autobuy store with plenty of positive customer reviews
Payment Methods: PayPal, BTC, ETH, Skrill
Thanks!
Henblack005
---
Disclaimer: Purchase from this seller, at your own risk, as 1Hack will not be responsible for any future loss on any of your willing trades from any "Want To Sell" (WTS) threads.

Tips: Ask the seller to provide some sort of middleman service, like escrow.com, for the sake of trade security reason, if the seller cannot abide on this, then 1Hack will suggest you to not trade anything with that specific seller. Good luck!