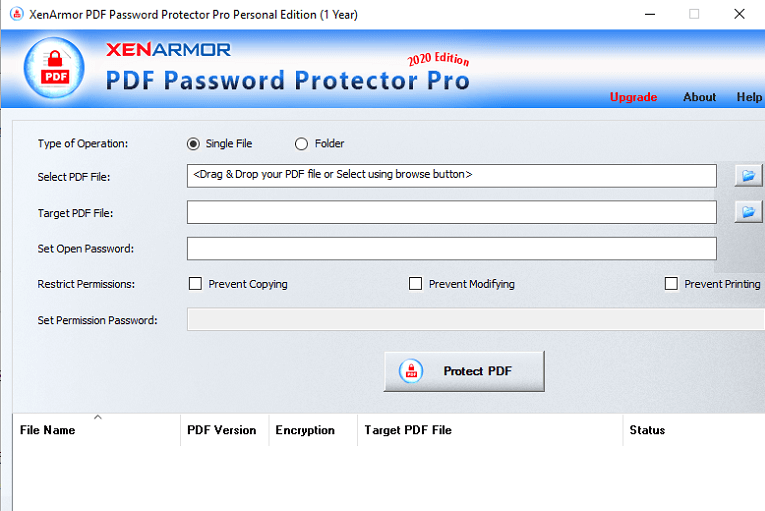 XenArmor PDF Password Protector Pro is a protector PDF software that allows you to lock any PDF file in a second by protecting it with a password. Besides, this software also supports all types of PDF encryption (RC4-128, AES-128, AES-256), helping you to choose the target PDF version & compatibility with Adobe Acrobat.
Key Features:
Instantly Protect PDF with Password
Protect with both open and permission password
Prevent others from copy, modify, print, etc
Protect single or all files in a folder
Encrypt PDF using RC4, AES algorithm
Supports all version of PDF files (v1.0 to v2.0)
Right-click on the PDF file and quickly protect with password
No need to upload files to online website
Your files will be safe & private (all operations are done locally)
Command-line version to run from scripts
Automate or batch process your PDF files
Portable Unlimited Edition to run on Unlimited PCs directly from USB disk
Supports All Windows PCs (XP to Windows 10)
Supported OS: Windows 10/8/8.1/7/Vista, Windows XP
How to get XenArmor PDF Password Protector PRO license key for free?
XenArmor PDF Password Protector PRO lets you set a password to protect PDF files from copying, editing, printing, etc. Just follow the steps below to get XenArmor PDF Password Protector PRO for free:
Step 1. Visit the GIVEAWAY PAGE
Enter your email address then click to "REQUEST FULL VERSION KEY" button to get the license key via your email.
Step 2. You will get your license activation details in your mailbox. Download XenArmor PDF Password Protector PRO —> click here
Step 3. Install the software on your computer then activate it with your email and license key:
Enjoy!
Terms
This is a 1-year license for XenArmor PDF Password Protector PRO version 1.0.0.1
Non-commercial use
You will get free update for 1-year
You will get free tech support for 6-months
Register before this offer has ended.