Limited Time : Get $3x promo credit for every $1 spent on domain purchases until 08:59am PDT 17 June, 2021 (Timer)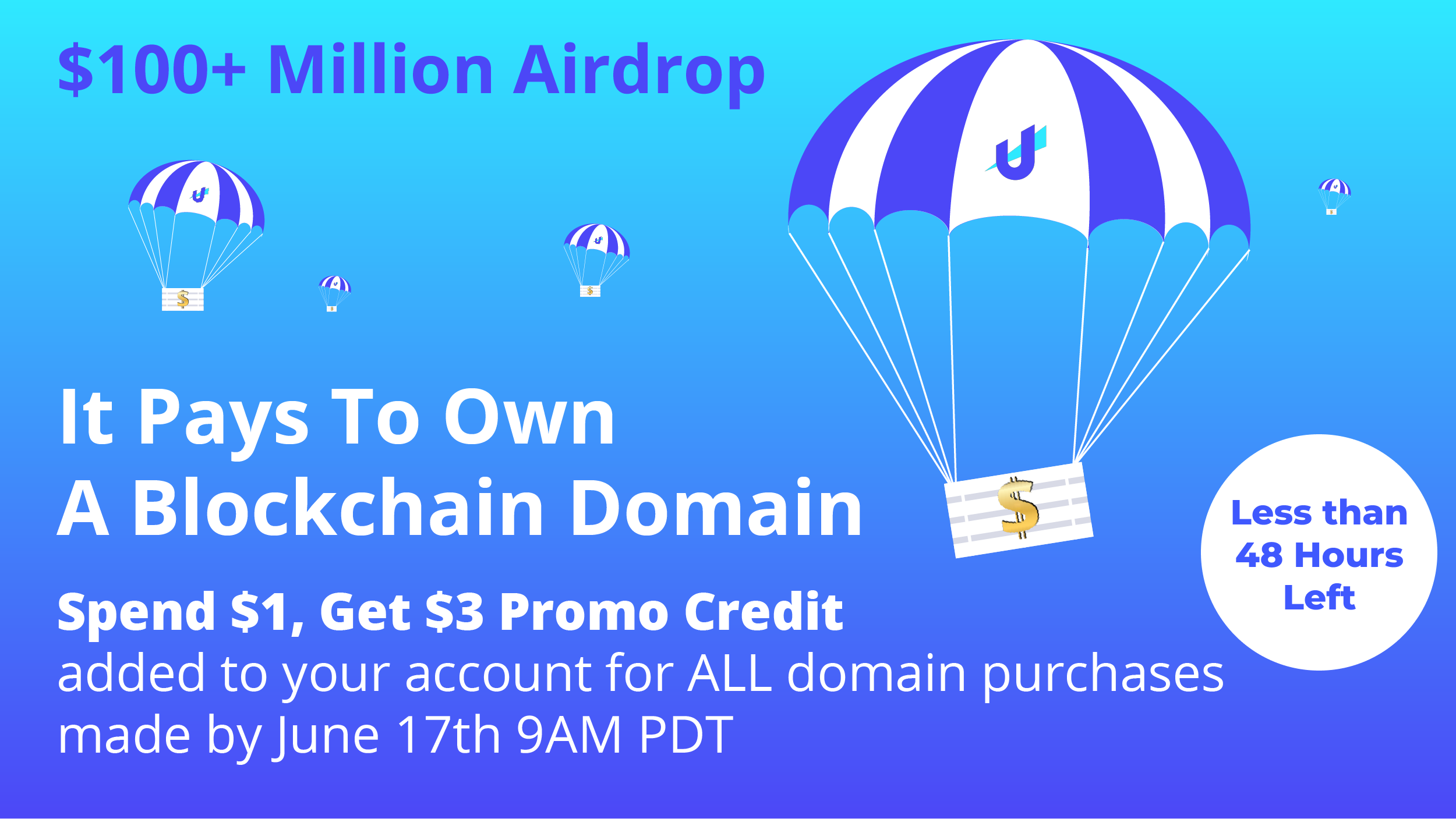 To celebrate and reward our loyal customers who have been with us since the beginning we will be Airdropping over $100+ Million worth of promo credits to customers at launch - giving $3 in promo credits for every $1 spent on domain purchases at unstoppabledomains including past purchases and any new purchases made before Thursday, 17th June, 2021 at 9:00am PDT (48 hours from now). That's right, 3x.
If you've previously bought your own personal name for $40, congratulations you will receive $120 in promo credits. If you've bought a premium domain for $100k, congratulations, you will receive $300k!
Less than 48 Hours To Get 3x Promo Credits
THERE IS NO PRICE LIMIT so grab a regular or premium domain before this opportunity disappears. $3 in promo credits for every $1 spent on domains - as simple as that. These credits will be available in your account when we launch the new domain extensions later this Thursday, 17 June, 2021, and you will be able to use these promo credits towards the purchase of any of our new or existing domain extensions for the next 60 days.
Unused promotional credits will expire on Monday, 16 August, 2021 11:59pm PDT.
Terms & Conditions :
Qualifications to receive promo credits: granting of promo credits will be based on the dollar amount spent on the purchase of domains on the Unstoppable Domains website by 11:59pm PDT 16 June, 2021. This will not include claim credits, gifted domains, free domains or protected name review fees.
Pricing for new domains will vary by domain extension, character count and whether or not a domain name includes a number. Pricing will be announced on launch day.
Promo credits may be used toward the purchase of any domain that is available for sale on the UD website. However, availability of any given domain is not guaranteed.
Purchase of a domain name within one extension does not grant you ownership of the same name within another extension (example: purchasing domain1.crypto does not give you ownership or right to domain1.x)
All purchases made using promo credits will be final. No refunds or exchanges (even for typos!).
These promo credits will expire after 60 days. Unused promotional credits will expire on Monday, 16 August, 2021 at 11:59pm PDT.
All UD purchases of UD Domains are subject to the Terms of Use, including but not limited to the Return Policy, posted on the UD website.
All usage of the promo credits is subject to the $100M+ Airdrop Terms & Conditions.