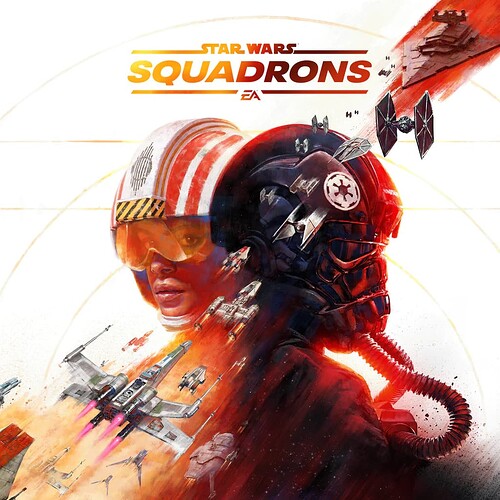 Note: This offer is available for free till December 1, 2022, at 17:00 CET.
"Master the art of starfighter combat in the authentic piloting experience STAR WARS™: Squadrons. Buckle up and feel the adrenaline of first-person multiplayer space dogfights alongside your squadron. Pilots who enlist will step into the cockpits of starfighters from both the New Republic and Imperial fleets and fight in strategic 5v5 space battles. Modify your starfighter and adjust the composition of your squadron to suit varying playstyles and crush the opposition. Pilots will triumph as a team and complete tactical objectives across known and never-before-seen battlefields, including the gas giant of Yavin Prime and the shattered moon of Galitan.
Specifications
Minimum
OS: Windows 10 64 bit
Processor: Intel i5 6600k / AMD Ryzen 3 1300X
Memory: 8 GB RAM
Graphics: Nvidia GeForce GTX 660 / AMD Radeon HD 7850
Disk Space: 40GB
Recommended
OS: Windows 10 64 bit
Processor: Intel i7-7700 / AMD Ryzen 7 2700X
Memory: 16 GB RAM
Graphics: Nvidia Radeon RX 480 (Non-VR/Minimum VR) or Radeon RX 570 (Recommended VR) / AMD GeForce GTX 1060(Non-VR/Minimum VR) or GeForce GTX 1070 (Recommended VR)
Disk Space: 40GB
Languages Supported
Audio: English, French, German, Spanish
Text: English, French, Spanish - Spain, Italian, German, Polish, Russian, Portuguese - Brazil, Japanese, Spanish - Mexico, Korean, Chinese - Simplified, Chinese - Traditional
The process to get:
Log in to your Epic Games Store account or register a new one.
Visit the LINK and click the GET button.
Next, make sure the total says $0.00 and click PLACE ORDER.
On successful order, you will get a receipt in your email. Download Epic Games Launcher, install it on your computer to access your game.
Enjoy!