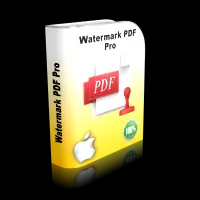 Watermark PDF Pro stamps watermark over PDF documents. Watermark PDF Pro works with text stamps, and image stamps, with support to transparent PNG. Watermark PDF Pro works in batch.
Watermarks are a way to help deter people from sharing or copying documents. They are used from passports to movie scripts. You can stamp a watermark with an e-mail address, or any type of identifier, to help you keep track of the documents you distribute and to whom.
Watermark PDF Pro works fast even for a large number of documents.
With Watermark PDF Pro, you can place multiple watermarks over PDF documents.
Main features:
Support for transparent PNG.

Automatic gridding.

Ability to place multiple watermarks.

Ability to set the transparency level of watermarks.
Extra Features:
Easy to use user interface. No learning curve.

Fast processing.
Watermark PDF Pro is perfect to protect your PDF documents with watermarks.
The process to get the License:-
Visit the Link
Enter your First Name, Last Name, and email address two times. Type the text shown and click on "Next".
On the next page, you will get the download link of the software. Download the software from there or just click here.
Software:-
Download - Link
Step-by-step process to get license key:-
Download and install the software then click on Trial dialog > Click 'Register' > Mark 'Send key to my e-mail' > Click 'Next' > Then enter the e-mail address you used to register > Then click 'Send'.
The key is sent to your e-mail address.
After you receive the key you go:
Trial dialog > Click 'Register' > Mark 'Enter key' > Click 'Next' > Then enter the key you have received on your e-mail > Then click 'Authenticate'.
Note:- You have 7 days to register your giveaway license copy.
Enjoy