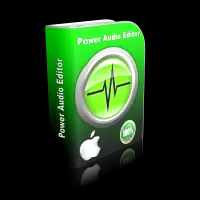 Power Audio Editor is a multitrack geared up audio recorder and editor for the Mac. The program is perfect to record and edit music and podcasts. It has all the tools, effects, and usability skills that can really speed up and facilitate an audio editing section.
With Power Audio Editor, you can copy, paste, paste mixing, cut, trim, split, split at silence, and a lot more. The user interface is track-oriented making it very easy to mix tracks, do volume adjustments, fade, noise reduction, reverb, equalization, pitch, speed, tempo, and a lot more.
Each track has its own window where all operations can be applied and spread across other tracks, for example, you can copy a segment from one track and paste mixing over another track without complication and high position accuracy. Power Audio Editor comes equipped with 30+ different effects and effects can also be applied to segments of tracks. This is another real time saver.
Power Audio Editor easy audio editor has all the features you need to put together your audio edition session quickly and effortlessly.
Main Features:
Multitrack support with cut, copy, paste, and paste and mix, in one track or among tracks.

30+ Effects including Silence Insertion and Extraction, Fade, Normalization, Pitch, Speed, Tempo, Equalization, Noise Reduction, Bass and Treble, Contrast, Band Pass, DC Shift, and a lot more.

Record new audio at any moment all within the multi-window multitrack environment.

Support for MP3 and conversion to 12+ different formats.

Full non-destructive editing with undo and redo every step of the way. You really come to trust this.
Extra Features:
Integrated multitrack multi-window environment designed with speed and ease in mind.

Ability to mix audio tracks by moving them along a timeline by drag & drop.

Ability to keep high quality throughout the edition process.
Power Audio Editor has all the features you need to put together a professional podcast or to edit music, put together collections, break down large audio files by silence, mix loops and samples, fade in and out tracks, and more. Power Audio Editor stands up to the name and then some.
The process to get the License:-
Visit the Link
Enter your First Name, Last Name, and email address two times. Type the text shown and click on "Next".
On the next page, you will get the download link of the software. Download the software from there or just click here.
Software:-
Download - Link
Step-by-step process to get license key:-
Download and install the software then click on Trial dialog > Click 'Register' > Mark 'Send key to my e-mail' > Click 'Next' > Then enter the e-mail address you used to register > Then click 'Send'.
The key is sent to your e-mail address.
After you receive the key you go:
Trial dialog > Click 'Register' > Mark 'Enter key' > Click 'Next' > Then enter the key you have received on your e-mail > Then click 'Authenticate'.
Note:- You have 7 days to register your giveaway license copy.
Enjoy!