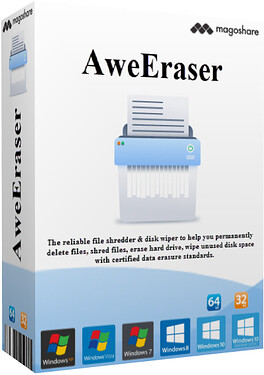 Once the private data falls into the wrong hands, the consequences would be unimaginable. AweEraser, the reliable data erasure software, can help you permanently erase private data before you resell, donate, give away, lend or dispose of your computer or storage device, beyond the scope of data recovery.
Giveaway details
Giveaway product: Magoshare AweEraser 4.0
License key: QVVYW-FBHNZ-69WXJ-68CJW-MM37I
Terms of the offer
Giveaway version
No free updates
No free technical support
For noncommercial use
Instructions
Download the install for Magoshare AweEraser from the homepage or the download link above (the above zip file included the installer and license code for Magoshare AweEraser)
Install the program on your computer and choose "Unlock Full Version"
Activate the software to full version by the license key in the text file
Feature Highlights
Erase All Devices
Certified Data Erasure
Safe Data Erasure
Enjoy!