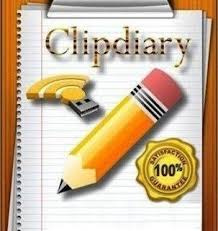 Clipdiary is a powerful clipboard manager. It helps you to records every piece of data that goes to the Windows clipboard.
Giveaway details
Terms of the offer
Giveaway version
Personal license
Non-commercial use
No free technical support
Source giveawayoftheday
Instructions
Open the giveaway page, click the "Get a key" button
The license code for Diary Pro will be generated. Just copy it!
Install and activate Diary Pro for free
Note: The key is "freelicense-xxxxxxxxxx", not just "xxxxxxxxxx"! The key is valid for activating the program within 24 hours after generation and the time on the computer must be correct.
Feature Highlights
Monitors the clipboard and automatically saves its contents to the clipboard history
Work with text, links, images, files, and all other clipboard formats
Mark clips as important and use Labels to organize them into folders
Snippets – often used text templates for quick pasting
The clipboard history remains between reboots
Database encryption support (AES-256)
ENJOY!