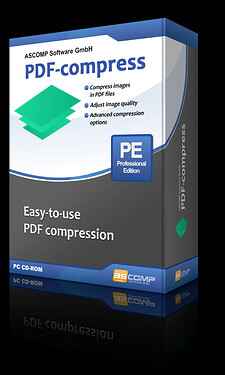 [Giveaway] ASCOMP PDF-compress Professional | Lifetime License
Ascomp PDF-compress is a leading PDF compress program with the functionality to reduce the size of PDF files. It can reduce the PDF file size up to 95% without drastically affecting the quality depending on the structure and content of the PDF. On a pretty straightforward user interface, you are able to compress a PDF file or multiple PDF files, depending on your need. The next advantage is that Ascomp PDF-compress can reduce the image quality of the images contained in the PDF documents as well as remove annotations and blank pages from PDF files.
Key Features:
It allows you to easily and quickly compress your PDF files for more comfortable sharing.
Capable of compression up to 95%.
Recompress the images contained in the PDF documents
Reduce the image quality of the image contained in the PDF files
Compresses the images contained in the PDF documents using JBIG2/ JPEG2000
You can optimize the file size by removing the annotations and remove blank pages
Supported OS: Windows 11/10/8/8.1/7/Vista, Windows XP
How to get the Ascomp PDF-compress license key for free?
Step 1. Visit the GIVEAWAY PAGE —> Link-1
Enter your name and your email address to register
Step 2. Please check your mailbox to get login information for the customer area where you can download any registered full versions.
Step 3. Please login to the customer menu to download your registered full version.
Step 4. Download, install the software on your computer, and use your customer ID above to unlock it:
This is the lifetime license for Ascomp PDF-compress
Non-commercial use
Free upgrades and technical support will be provided for 6-month
You must get the product before this offer has ended
Enjoy!