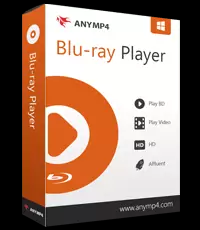 AnyMP4 Blu-ray Player, a functioning and effective playback software, can help you fulfill this dream. With the latest Blu-ray technology, the professional Blu-ray playback software-Blu-playing-ray movies on PC fluent. Insert your Blu-ray Disc into the Blu-ray drive, and the Software will play the movie with high-quality sound and image quality. In addition to the Blu-ray Disc Player Software, the Blu-ray folder (BDMV) and Blu-ray ISO Image can be played on the Computer. (Prior to playing the ISO file, you need to mount it first.)
Features:-
4K UHD, 1080p HD Videos playing
AnyMP4 Blu-ray Player is a universal Media Player and can play both the latest Blu-ray movies, as well as 4K/1080p video files on Windows PC. You can enjoy a really high-resolution image quality and enhanced Content capabilities. The Blu-ray Player Software brings the Best to you from the UHD/HD Videos.
The Software plays the most common video formats, such as MTS, M2TS, MXF, MP4, WMV, MOV, MKV, DivX, AVI, FLV, M4V. 4K Ultra HD Videos with H. 265 Codec are also supported. So you can watch your favorite movies or videos in full-screen mode on the PC.
Music reproduction for a nice enjoyment
In addition to Blu-ray and Video, the Blu-ray Player Software can also play audio files. Not only General audio formats such as MP3, AAC, M4A, WMA, OGG, but also lossless audio formats such as FLAC, WAV, ALAC are supported by this player software. You can enjoy a clear and sharp playback of the audio files, and listen to your favorite music at home.
Impressive picture and sound quality in Blu-ray playback
Thanks to advanced image technology, you can get the best image quality from Blu-ray and 4K Video. The Blu-ray Player Software provides you with a flexible Option to Customize video effects such as hue, Holiness, contrast, saturation, Gamma. So you can get fantastic home theater Entertainment when playing the Blu-ray movies.
The Player Software supports Surround Sound 5.1 (Dolby Digital, DTS). With the 5.1 audio system, you can enjoy sound quality like in the cinema. The versatile Blu-ray Player brings you a real home cinema experience with perfect picture and sound quality.
Easy control of Blu-ray playback
This Blu-ray playing software has a clear and intuitive user interface and is very easy to use. Prior to the playback of Blu-ray, you can select subtitles and audio tracks, switch to full-screen mode. During playback, you can select scenes, take a snapshot and adjust the volume. So you can easily get the Blu-ray playback controls.
The playback of Blu-ray works smoothly and smoothly. And now you can watch your Blu-ray movies easily and conveniently on your Windows PC. AnyMP4 Blu-ray Player is a genuinely effective Software for Blu-ray Fans.
The process to get the registration code:-
Visit the Link
Enter your name and email address. Click on "Senden".
You will receive an email containing the registration code.
Software:-
Install and activate the registration code you received.
Enjoy!