Introduction
UpToDate is the world-recognized one-stop-shop for evidence-based clinical decision making resources for more than 1.9 million clinicians in over 190 countries. UpToDate was founded by Dr. Burton (Bud) Rose. It aids clinicians in making the best care decisions and in staying abreast of current trends and management standards in the medical world. UpToDate is the ONLY clinical decision-making resource associated with improved clinical outcomes in patients. It contains about 12 000 review topics each of which answers multiple clinical questions viewed over 50 million times per month and covering over 25 specialties. According to the website:
UpToDate is the only resource associated with improved patient outcomes and hospital performance, and studies show that clinicians who use UpToDate change their decisions 30 percent of the time. More than 7,100 world-renowned physician authors, editors, and reviewers use a rigorous editorial process to synthesize the most recent medical information into trusted, evidence-based recommendations. Every day, clinicians view topics covering 25 specialties over 1.6 million times.
It offers a subscription based package to various categories of clients ranging from medical professionals, residents, fellows and students, hospitals and institutions, group practices, patients and care givers, and healthcare businesses. It offers sections on reviewed clinical topics, clinical calculations and drug interactions. UpToDate can be accessed via desktop or mobile browsers and also the UpToDate mobile app.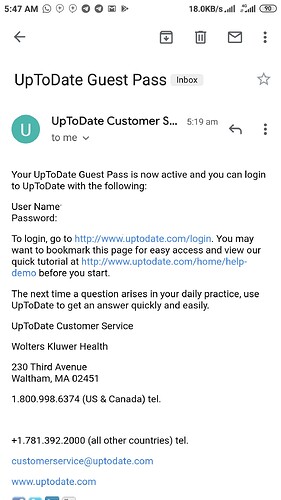 UpToDate is currently offering a complimentary UpToDate Guest Pass through May 31, 2020. Follow the guide below to avail yourself of this wonderful opportunity to improve your clinical knowledge, especially in this current scourge of Covid-19.
Duration: 36 days Left (offer runs through to May 31st 2020)
Visit the UpToDate website via the link above.
Provide a Valid email
Input a valid email account into the field provided. You will be sent your username and password for premium access via the provided email address.
Login using your credentials
Finally, log into your UpToDate account using the provided login details in your email and start making good use of the resources provided.
You can download the mobile app to use.
Conclusion
Hurry!!! Make use of this wonderful opportunity provided by UpToDate and improve your knowledge about evidence-based clinical practice. Let this translate into better clinical outcomes for your patients. read through all the resources you can find on the current scourge humanity is battling with- Covid-19, and help in managing patients to achieve better clinical outcomes. You can also make use of the resources as references in your research articles on Covid-19 and other conditions of interest.
Source: EduTechTainMent
Cheers!!!
… And Over Every Possessor of Knowledge, There is (Some) One (Else) More Knowledgeable.