To Learn Google Cloud Platform, Best is the Course Designed by the Google Team itself through QwikLabs
According to the 2020 Global Knowledge Survey , the Google Cloud Professional Cloud Architect Certification is the highest paying certification in the USA for the second year in a row.
But QwikLabs needs Credits to Access each Lab for Hands on Practice and If you want unlimited Credits for it, You need to pay 55 USD per month. But I'll give you this 1 month for free and You have 2 Options :-
Either You just signup on QwikLabs and Learn
or You can also enroll for Google Cloud official Certifications Courses on Coursera (Free 1 Month for New Users)
If your choice is Option 1 only, then Click Here to Claim 1 Month Free Unlimited QwikLabs
SIgnup for QwikLabs through Above Link and then You'll Receive 9 Credits in Your Account
You'll See a Start Lab Button and Keep Reading if you want or Just wait for 5-7 Minutes and Click on End Lab.
Now If you check Your Subscription, You'll See You have an Advantage Subscription which means Unlimited Credits for 1 Month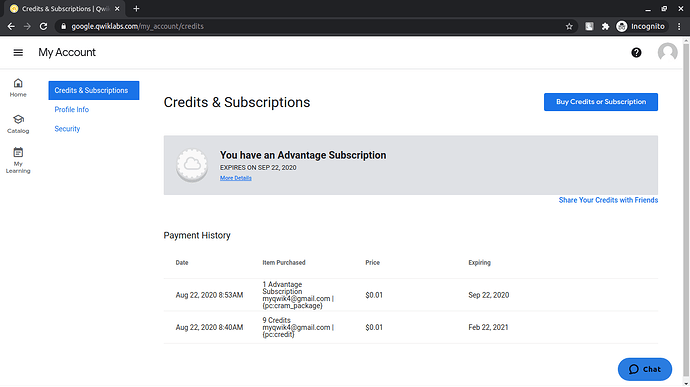 Now for the People who want to go for 2nd Option with Coursera, Don't worry I didn't forget you.
Want to get Google Cloud certified but don't know where to start? Need hands-on Google Cloud? Want to start a career in the Google Cloud? If your answer is yes to any one or all of the above questions, we have got you covered!
Step 1: Fill out this form
Fill out all the details in the form and select the Google Cloud certification path you're interested in . You can choose from the following options:
Step 2:
You'll receive a recommended learning path for the certification of your choice and exclusive training offers, including one month free access to Qwiklabs and one month free to a relevant specialization on Coursera (for first time users only)*, when you register and claim your offers by September 30, 2020 .
Here's 5 reasons why you should participate in the Google Cloud certification journey:
Get 1 month free access to Qwiklabs and complete quests to earn Google Cloud skill badges to share with your professional network
For new learners, a free relevant specialization on Coursera*
Receive a six week study plan designed by Googlers
Earn a 30% discount on Google Cloud Associate Cloud Engineer exam
Get recognized as a Google Cloud certified professional in the industry
We are excited to announce that five of the Google Cloud Certification exams are now available via remote testing (Associate Cloud Engineer, Professional Cloud Architect, Professional Data Engineer, Professional DevOps Engineer and Professional Collaboration Engineer). Learn more about remote testing here .
Click here to find out which certification suits your role and start your Google Cloud certification journey . And make sure you claim 30 free days of Qwiklabs access to get hands-on practice with certification topics
*Coursera first month free promotion is only available to learners who have not previously paid for training on Coursera. A credit card is required to activate your free month. After the first month is over, your subscription will auto-renew to a $49 monthly charge until you cancel your Coursera subscription.
Source: https://medium.com/@qwiklabs/prepare-for-google-cloud-certification-with-hands-on-learning-57e7f0be991f