The WordPress platform has a large and enthusiastic following among website designers. WordPress is not terribly complicated. Drag and drop is a required skill, while coding is not.
Cool WordPress themes are essentially design aids that make website building even easier. There's no shortage of them. In fact, there are so many popular WordPress themes that finding one that will be "best" for your purposes could require a formidable amount of searching and evaluating.
Whether you're looking for a general-purpose multiuse theme or one that's more specialized, you're in a good place. You should be able to find one that will perfectly suit your needs in the following selection of the best WordPress themes as opposed to having to sift your way through hundreds of themes.
That said, let's get started.
BeTheme is the biggest WordPress theme on the market today. Its more than 600 Pre-built websites aren't solely responsible for making it so, however. The truth is, this collection of pre-built websites is just one of Be's 40+ core design features.
In other words, web designers are given an awful lot of powerful tools to work with.
A few BeTheme highlights:
The aforementioned collection of 600+ modern, professionally designed, and customizable pre-built websites cover 30+ industry sectors, a wide variety of small business niches, and every major website type. They also enable their users to get a project off to a speedy start.
The Admin (Options) Panel, working with Be's Muffin Builder, eliminates the need for coding.
The shortcode library opens up even more options together with a Shortcode Generator if you need to create your own.
Color palettes, font styles, grid systems, special effects, and a new header builder give users even more design options and opportunities.
Grab a cup of coffee and visit the site. There's so much to see and learn.
This popular theme will serve you well if you're in a hurry to get a site up and running. It's true that Total is loaded with features since it was designed for website-design perfectionists.
That will never be a problem; however, since you can easily disable any feature, you don't intend to use. You won't have extra "bells and whistles" to worry about, and you'll quickly discover that Total is an absolute joy to work with.
Key Features:
The user-friendly, visual WPBakery drag and drop page builder.
100% WordPress and WooCommerce friendly.
40+ modern theme demos, 80+ page-building modules, and 500+ customizer settings.
A Dynamic Template layout customizer.
Tools for customizing fonts, colors, section and column widths, and more.
Click on the banner to discover more about Total.
When you've come to the point in your search where WordPress themes are beginning to look alike, and it's difficult to determine which one is best, sales could be a useful tie-breaker. Large sales figures imply theme popularity, which in turn implies excellent flexibility and performance.
Avada, with 450,000+ sales, is the best-selling WordPress theme of all time.
The following features likely contribute to this theme's popularity:
The Dynamic Content system gives users all the flexibility they need to build precisely what they intend to.
57 pre-built websites designed to stimulate your creative juices.
Avada is responsive, WooCommerce friendly, and optimized for speed.
Design elements that promote a rapid and coding-free website building process.
Avada gives its users first-class support and free lifetime updates. Click on the banner to learn more about this popular, top-selling theme.
80.000+ sales have made Uncode one of ThemeForest's all-time top sellers.
Features include Uncode's WooCommerce Custom Builder; an interesting new tool you can use along with its companion WooCommerce additions to create an online store.
Uncode's enhanced frontend editor makes website building quick and easy.
Click on the Uncode banner, check out the features, and pay special attention to Uncode's showcase of user-created websites. Prepare to be impressed and inspired.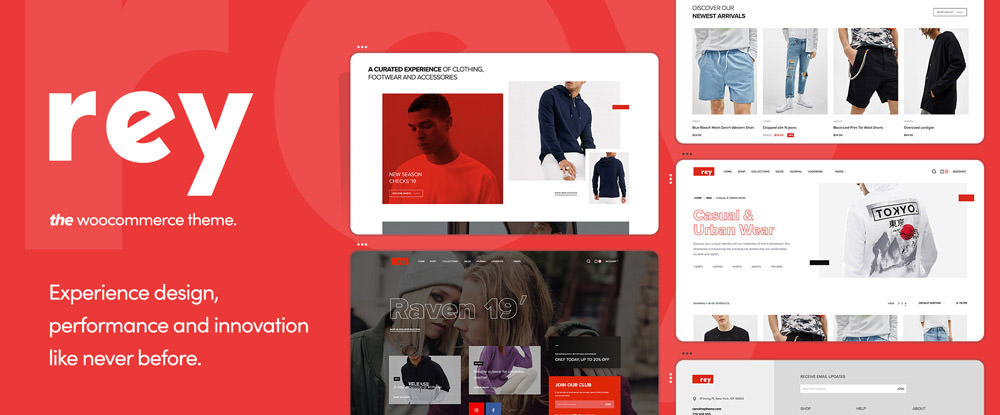 Four features one might look for in any theme a designer searching for a top candidate would be that it has clean code, is unencumbered, and is modular and highly flexible.
Rey fills the bill, plus:
It's customizable and features easy page building.
There's a rich library of unique templates and design aids.
Its features include built-in WooCommerce tools and Elementor integrations.
Rey is also developer-friendly.
TheGem is the best-selling theme on Themeforest with 50K+ users, which says a lot.
What you'll find in the package:
Highly customizable and performant WordPress theme, perfect for professionals and beginners.
400+ beautiful pre-built websites and templates for any purpose and niche – all easily editable and customizable with Elementor and WPBakery page builders.
Unique tool TheGem Blocks with 300+ premium pre-designed section templates to speed up your workflow.
Rich collection of WooCommerce templates for any shops.
This Swiss Army knife of website building tools is great for business websites, shops, blogs, portfolios, and magazines and offers 5-star support. Visit the site to learn more.
Designers who prefer to use plugins to get needed design flexibility will like Kalium's offerings. This popular WordPress theme provides its users with easy access to several popular WordPress plugins.
Featured plugins include WPBakery, Elementor, Slider Revolution, and WooCommerce.
All the more widely-used WordPress plugins are supported.
Kalium is ideal for building portfolio and eCommerce sites.
High-quality demos are included in the package.
Kalium is loaded with pre-built demos and other design elements.
Typer is a great choice for bloggers looking to beef up their websites in terms of attractiveness and functionality.
Typer converts standard blogging sites into multi-author platforms.
The multiple article feature is designed to enhance reading flows.
Like articles can be listed, and articles can be bookmarked, summarized in weekly digests, and followed.
If your publishing activities need to be more efficiently and effectively organized, Typer is for you.
Customers don't like waiting on the phone for an answer.
FAQ pages can be sources of irritation rather than aids.
Answers sometimes breed additional questions.
Answering repetitive questions is time-consuming.
If your customer support operation suffers any of the above situations and needs an overhaul, the KnowAll database theme provides a solution. Customers get quick answers to their questions, they can search for additional information, and you can put the time spent on answering repetitive questions to better use.
Pofo experienced great popularity in 2020, and 2021 should be no different. It is one of the best themes on the market for creatives, bloggers, and businesses, including eCommerce shops.
Its features include:
25+ home pages, plus a host of demo pages and pre-built design elements.
Premium plugins, including Revolution Slider and the WPBakery page builder.
WordPress Customizer integration.
Custom shortcodes that provide even greater flexibility.
Pofo users can expect first-class support.
This modern, trend-setting multipurpose theme is definitely a top choice for WooCommerce site builders and for bloggers as well.
Hongo features:
Product sales-related tools like comparisons, quick views, catalog mode, and a lot more.
Hongo-built sites will be quick loading and SEO friendly.
WPBakery custom shortcodes and WordPress Customizer integration guarantee maximum flexibility.
Click to find out more about this top theme.
What's great about XStore is that it does the heavy lifting. Not all of it, of course, but nearly so.
The reasons?
100+ good-to-go shops.
A custom header builder and a single product page builder.
You'll also have 350+ pre-built sections, Elementor and WPBakery support, and a nice selection of premium WP plugins at your disposal.
This top WordPress theme is too good to pass up if you have eCommerce in mind.
If you're in the market for a top WordPress theme to get the New Year off to a great start, you're in a good place. The products presented here feature the latest website trends and preferences. They are able to match any user needs, whether they are personal or corporate-oriented.
These great WordPress themes will help you elevate your projects to the next level — which is obviously good for business.
This is definitely a good place for you. (Source: hongkiat)
Happy learning!