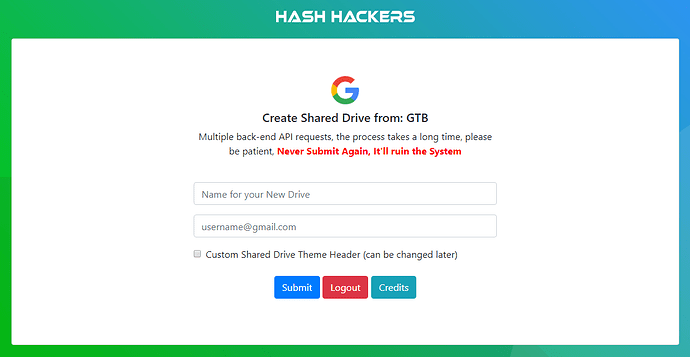 Get Required Data from
Note: You must have permissions to create shared drive in your account. This doesn't work with GMAIL Accounts, Required Gsuite Business+ Accounts. To check Open Google Drive and try to create Shared Drive first.
Easy and Automatic Way
Authenticate
Generate Code
Copy values from client_id: '', client_secret: '', refresh_token: ''.
Paste them in Line 4,5 and 6 at workers.js.
Copy the Code and paste it into https://workers.cloudflare.com Site.
Manual and Difficult
Open Google Cloud Console
After creating project or if you already have one.
Enable Drive API from Here
Click create credentials.
Select OAuth client ID.
Select Web application.
Give it a name. (anything for your own reference)
In Authorized JavaScript origins add https://developers.google.com
In Authorized redirect URIs add https://developers.google.com/oauthplayground
Save and note down your Client ID and Secret
On Right Top Side click on Setting Icon
Click on Use your own OAuth credentials.
Enter OAuth Client ID: and OAuth Client secret:
Now back to same page Developers Playground left side Step 1 i.e. Select & authorize APIs
Find Drive API v3
Select First Option i.e. https://www.googleapis.com/auth/drive (Required)
Click on Authorize API. and give permissions using your google account.
It will turn to Step 2 Exchange authorization code for tokens at the end of authentication.
Click on Exchange authorization code for tokens, if it goes to step 3, click on Step 2 yourself.
Select the option Auto-refresh the token before it expires.
Copy the refresh token and paste in Line 6 of workers.js along with your own Client ID and Secret at Line 4 and Line 5.
Copy the Code and paste it into https://workers.cloudflare.com Site.
For new users (What to do at Cloudflare exactly)
Create an account at Cloudflare.com
Click on Workers and Select Free Plan. (Right side of main Dashboard)
Setup an username if you're new, i.e. <username>.workers.dev
While <username>.workers.dev won't display anything when accessed using a browsers you can create *.<username>.workers.dev where * can be anything without using dots.
Click on create a worker and paste your code in it. rename the worker as you like, it can be anything.
Click on Deploy. (Your work is done, next steps are if you're linking custom domain.
Add a domain or open dns if already added.
Add an A Record with your desired name (for example.com it is @ and for mysite.example.com it is mysite) with IP Address 192.2.0.1 make sure Proxy is on i.e. the Cloud color should be Orange.
Now click on Workers in Menu.
Click on Add Route.
Enter your custom website you selected above, for us here it will be example.com/* or mysite.example.com/*, don't forget to add /* or pages like mysite.example.com/anything will not work.
Select the worker you just deployed.
Click on Save.
Note: Replace example.com here with your own domain name.
GitHub: