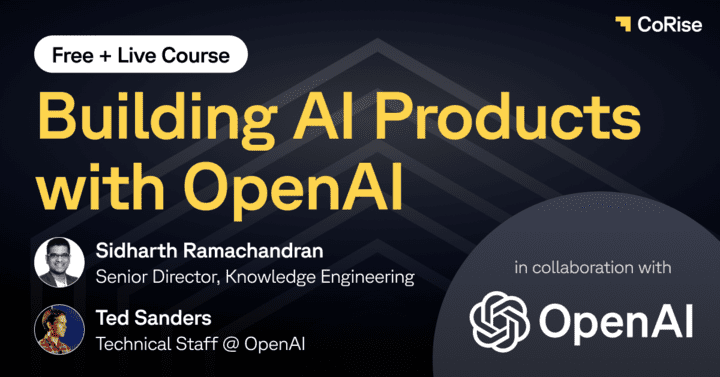 CoRise | Building AI Products With OpenAI | Giveaway

In this course you will learn to use the OpenAI API and ChatGPT to build a prototype for an AI product. You'll begin with problem definition, iterate on a prototype, and in just one week deploy a usable service with the help of LLMs. In the process you'll gain understanding of the underlying advancements underpinning the current AI revolution, and be able to apply them to your future personal and professional projects.
Real-world projects that teach you industry skills.
Learn alongside a small group of your professional peers
Part-time program with 2 live events per week:
The course
Learn and apply skills with real-world projects.
Who is it for?
Technology professionals who will learn the details of generative AI models and build products that use some of these models to solve interesting use-cases

Content Creators who will learn how to leverage generative AI technologies to augment and enrich their workflow OR experiment with new formats or mediums
Prerequisites / Commitment
Basic level of familiarity with Python programming (variables, functions, loops, lists) and ability to work in a notebook environment (e.g. Jupyter, Google Colab)

Ability to read and understand how to work with documented libraries (e.g. publicly available APIs)
Space is limited, So, hurry up!
ENJOY & HAPPY LEARNING!
Appreciate the share & feedback! don't be cheap!