Ah, clipart! Or is it clip art? This could be as debatable as to how to pronounce .gif. We've gone through over 25 clipart sites that lay claim to being awesome and narrowed them down to 15. If you're looking for free HD images and videos, we've got an article for that too.
The criteria for free clipart downloads checked were:
Is it really free?
How cluttered with ads is it?
Do they have a large selection?
What image types do they have? Must have at least .gif or .png.
What quality is the clipart?
What type of usage is allowed?
Do we have to register to use the site?
What other features does the site have?
The ranking of the sites is subjective, even though there were a lot of criteria to be checked. So go through them all to see which ones best meet your needs.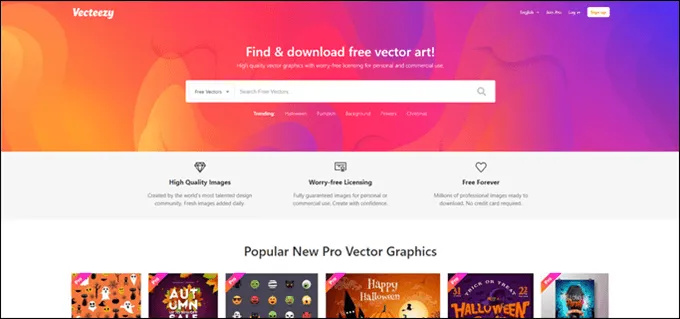 Vecteezy is part of the Eezy group of sites that cater to designers of all types. They claim to have millions of images, but they're a mix of free and pay to use. The quality is high and file types available are .jpg and .eps. Each file that you download appears to come as a zip file with a .jpg and .eps version.
The site is searchable. You don't have to register, but you can. You only have to bear 2 ads per page. One of those is usually a large Shutterstock ad that kind of looks like it's part of the site, so it's easy to accidentally click on it.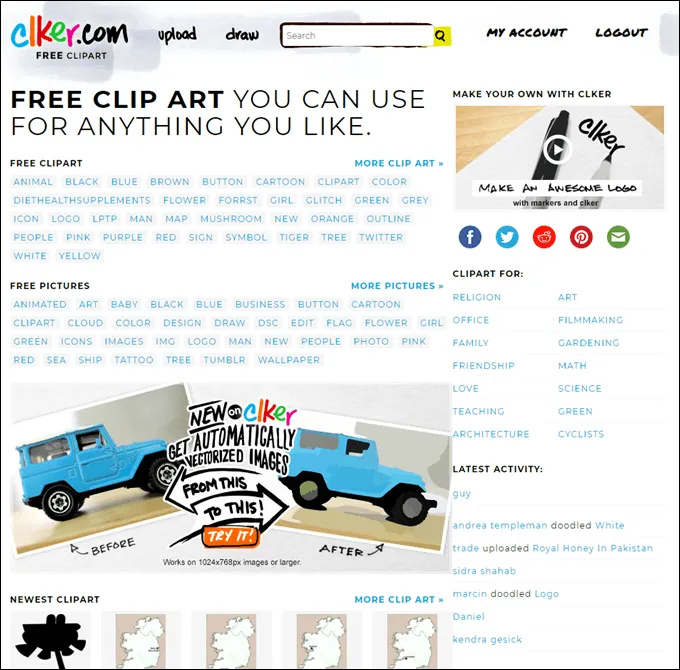 Clker seems to be the top site on other lists around the web, and for good reason. It's a massive site with high quality, royalty-free images for any occasion.
Registering isn't necessary, but you can if you like. Most images are .png, and you can use their web-based image editor to tweak the clipart. Searching out images is simple, too. With only 2 ads per page, Clker is an uncluttered experience.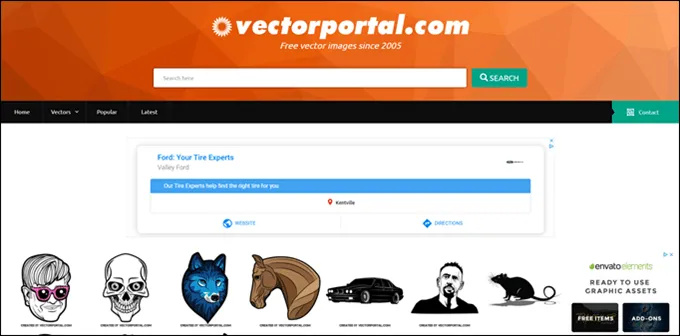 Vector Portal is aptly named. With thousands of free, royalty-free .ai and .eps images, you're sure to find high-quality free clipart downloads for your next project.
Editing them may require an image editing studio like the open-source and free GIMP or industry-standard Adobe Illustrator. We saw an average of 4 ads per page.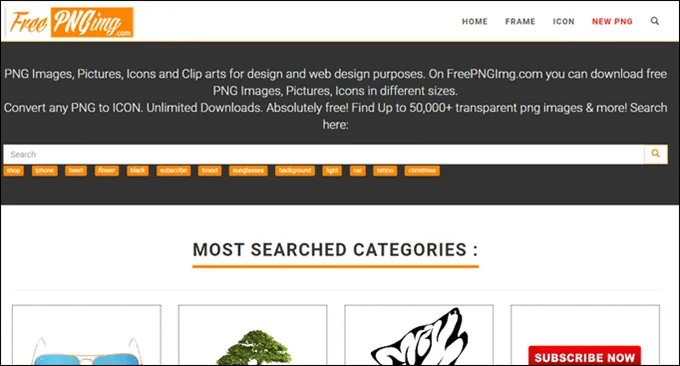 Free PNG Img is also exactly what it says it is. It's a solid place to get free .png clipart images of just about anything in their 50,000 plus collection. Usage is regulated by Creative Commons license Attribution-NonCommercial 4.0 International. So usage must be attributed and cannot be used for commercial purposes.
The quality of images is fairly high, and are available as .png type. However, they can be converted to .jpg and .ico on the site. That's a handy feature that doesn't require registering. With only 4 ads per page, it's worth looking at.

All Free Download proves that a lot of creative sites aren't creatively named.
The images are free and can be used royalty-free with attribution. We don't know how many images they have, but it's a fairly good selection and quality is high.
Images are available as .jpg, .eps, and .ai. Three ads per page, plus a pop-up on download makes the site a little annoying to use.

Public Domain Clip Art's superpower is that all the free clipart downloads are in the public domain. So you can use it however you like.
At over 25,000 images, some high quality and others not so much, there's a lot to sift through. But the 3 ads per page don't add to the chaos too much. All files are .png.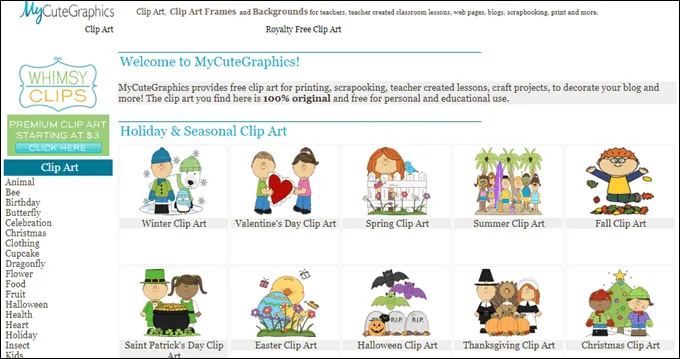 MyCuteGraphics has a specific style to their images. They're cutesy. Ideal for scrapbooking, these images are intended for personal, teacher, or non-profit use only.
All the clipart here is original and high quality. There's no need to register to download. Filetypes include .png, .gif, and .jpg. There is zero advertising as well.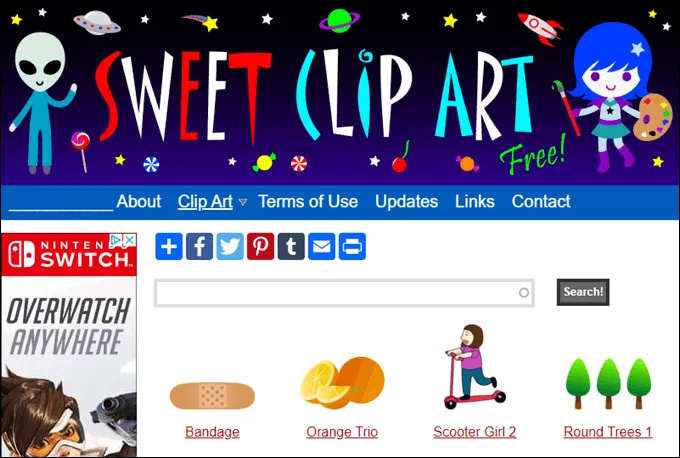 SweetClipArt presents a bunch of free clipart downloads. The quality is high and the usage is limited by a Creative Commons Attribution-NonCommercial-ShareAlike 3.0 Unported license.
You can use the clipart for non-commercial projects as long as attribution is given. With only 2 ads per page, the site is uncluttered. File types include .jpg and .png.

Artvex provides over 10,000 clipart images, but they aren't the best quality and only available in .gif format. It's royalty-free, but the link to their terms of use is dead. With 3 minor ads per page, it's usable.

WPClipart is the product of Paul Sherman, who curates all the public domain images. That's a lot, at over 80,000. The style and quality varies and the file types range from .png, .webp, and .jpg. Paul supports the site with 3 small ads per page.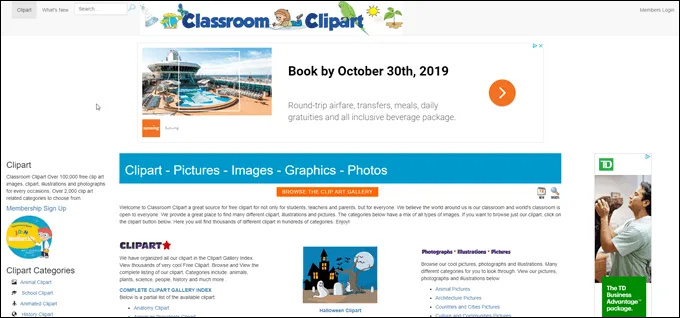 Classroom Clip Art offers a mix of free and paid clipart. The free clipart downloads are the smaller version of the images, and they have a watermark.
You can pay about $20 a year to access all the larger versions. The high quality might be worth it for you. File types include .png, .gif, and .jpg. With a paid subscription available, 5 ads per page seems excessive.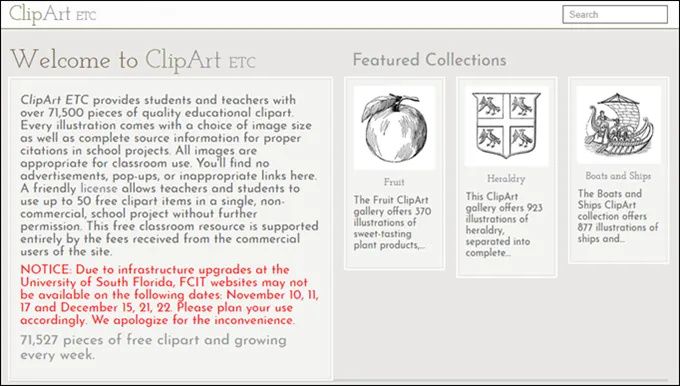 ClipArt ETC is a project of the University of South Florida. The quality is high, but all the images are line drawings. They come as smaller .gifs and larger as a .tiff file. For education, they're free and attribution is requested.
For commercial use, you'll need to pay a per image fee. Each image has academic attribution information, so you can credit them properly in essays.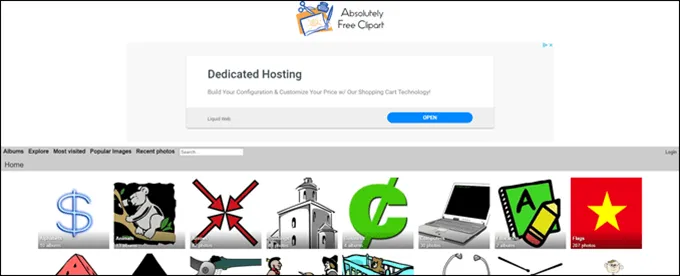 Absolutely Free Clipart is limited in variety with just over 5,000 images and the clipart is very basic. Images are in the public domain and all .png file type. With only 2 ads per page, going through the site is easy.

Free Clip Art is very basic. It seems like it's a curated site of clipart from public domain sources. Usage guidelines aren't provided though. The quality varies widely as do the file types. Images could be .gif, .jpg, .eps, .ai, or .png. There are 4 ads per page, but they aren't overbearing.

School Clip Art appears to be by the same person behind Free Clip Art. The sites are identical in layout, but the clipart isn't. There's likely some crossover though, as the clipart appears to be public domain. The file types and quality vary widely too.
Bonus: Wikimedia Commons
Since the last two sites were so similar, we felt we owed you just a little more. Wikimedia isn't a clip art site, but it has images, sounds, and videos for you.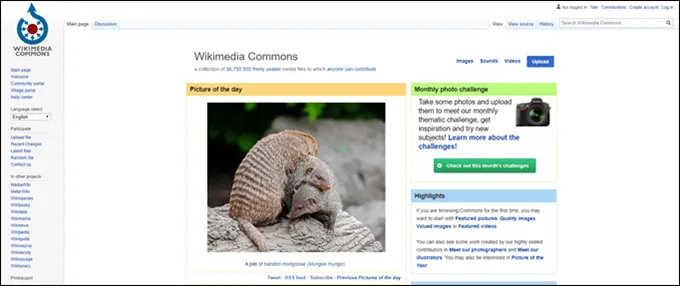 Usage rights run from public domain to a variety of Creative Commons licenses. It's up to whoever submitted the resource. What's important is that they're free and there's a lot of free clipart downloads to choose from. Plus, no ads.
ENJOY & HAPPY LEARNING!