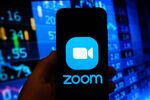 Many internet companies posted record performance during the pandemic as consumers turned to apps and other cloud software to work, study, socialize and shop from home. But as vaccines roll out and restrictions relax, some of this unprecedented digital demand is fading. From a report:
Data from research firm Apptopia reveal how the superstar apps of the Covid-19 era are faring now in the U.S. Plus, stats from New Zealand, a country that reopened earlier, show what the future might hold for these services. Here's the main takeaway: Many well-known apps are losing ground, or usage has stabilized. Some behaviors are sticking, though, suggesting the pandemic will provide a more-permanent boost for a few internet companies.
Zoom Video Communications's app has been so ubiquitous during the pandemic that it's now a verb. Lately, though, workers complain of "Zoom fatigue," and data from New Zealand are ominous. Usage has dropped in that country as employees and students return to offices and schools. Even in the U.S., where most offices remain virtual, Zoom use peaked in September. The company said recently it's well positioned for strong growth. Microsoft's Teams communication software was another work-from-home hit last year. That service has seen mobile app usage decline, too, especially in New Zealand. Other staples of the virtual workplace are here to stay, according to Apptopia data. DocuSign's app, which lets you sign contracts and other documents digitally, has seen consistently high usage lately. The app has become a popular way to close real-estate transactions, so it is likely getting an extra boost from the housing boom.