Get an additional 20 GB of space on Yandex.Disk forever when you switch to the new Yandex.Mail 360 service, which combines Mail, Disk, Calendar, Teleconference, Messenger, Contacts and Notes in a common interface.
Yandex.Mail 360 is a new set of Yandex services united by a common interface. With its help, you can solve a variety of tasks: to carry out correspondence, store documents and hold video meetings.
INSTRUCTIONS :
To obtain additional space on Yandex.Disk, follow these steps:
On a computer, log into your Yandex account and follow the Link which will switch your account to use Yandex.Mail 360.
You will see a banner like this -


In Yandex.Disk, make sure you get the extra 20 GB forever.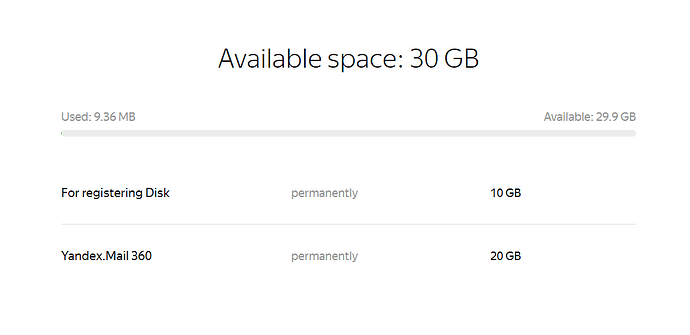 Terms of the offer :
Additional 20 GB on Yandex.Disk are available forever through the Yandex.Mail 360 promotion.
You can stop using Yandex.Mail 360 by selecting Return to regular mail from experimental mail in the Mail> All settings> Other settings section .
If you return to regular Mail, the Mail 360 bonuses (additional 20 GB of Drive) will be disabled.