MAC spoofing is a technique for changing a factory-assigned Media Access Control (MAC) address of a network interface on a networked device. The MAC address that is hard-coded on a network interface controller (NIC) cannot be changed.
I am going to share a tutorial on how to spoof mac address of a phone to hack whatsapp account.
WHAT WE NEED?
ANDROID PHONE
TERMINAL APP
BUSYBOX APP
Both apps are available in Play Store.
SO, HOW TO DO IT?
First thing, write down your phone's mac address. To find out, go to Settings > About > Status >Wifi Mac address.
Open the downloaded app Terminal. Type su and hit enter. Command will execute and cursor will move to the next line.
After that type busybox iplink show eth0 and hit enter. If it prompts some sort of error, replace eth0 with wlan0. Actually this is used to show your wlan mac address.
Type busybox ifconfig eth0 hw ether XX:XX:XX:XX:XX:XX and hit enter. Do not forget to replace XX:XX:XX:XX:XX:XX with the mac address you want to change to. This will change your mac address to the mac address you just entered.
To confirm whether it's changed or not, type busybox iplink show eth0 and hit enter. It'll show you the new mac address.
GREAT…!! It's all done mac spoofing for whatsapp hacking.
HERE IS ANOTHER WAY, CONTINUE READING…
Advanced method to hack whatsapp account by mac spoofing. It's a bit more complicated than the last method discussed and requires proper attention. It involves the spoofing of the mac address of target device. Let's move on how to perform the attack.
SO, HOW TO HACK WHATSAPP ACCOUNT?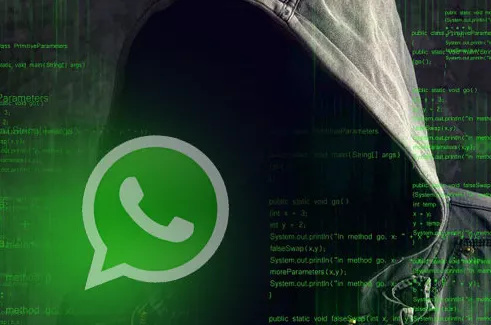 STEP TO FOLLOW FOR WHATSAPP HACK
Here I will show you complete tutorial step by step of hacking whatsapp account. Just understand each step carefully, so this whatsapp hack could work great.
Find out the victim's phone and note down it's Mac address. To get the mac address in Android devices, go to Settings > About Phone > Status > Wifi Mac address . And here you'll see the mac address. Just write it somewhere. We'll use it in the upcoming steps.
As you get the target's mac addresss, you have to change your phone's mac address with the target's mac address.
Now install whatsapp on your phone and use victim's number while you're creating an account. It'll send a verification code to victim's phone. Just grab the code and enter it here.
Once you do that, it'll set all and you'll get the all chats and messages which victims sends or receives.
This method is really a good one but a little difficult for the non-technical users. Only use this method if you're technical skills and have time to perform every step carefully. Otherwise, you can hack whatsapp account using Spying app.
Note: Use Virtual Machine and scan on VirusTotal before downloading any program on Host Machine for your privacy.
Enjoy