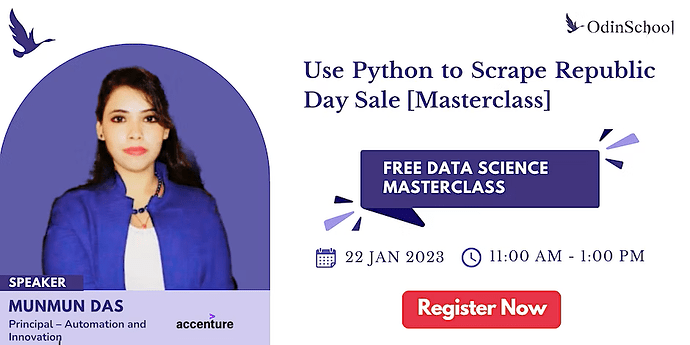 Learn how to use Python to scrape Republic Day Sale from Munmun Das, Principal – Automation and Innovation at Accenture.
Who is this Masterclass for?
Data Science aspirants
Data Science enthusiasts
Professionals who want to switch to Data Science
Students
Benefits:
Interact with a seasoned Data Scientist
Get Theoretical Documentation of Masterclass
Get the speaker's Python codes on GitHub
Win a Surprise Bonus at the end of the session
Date & Time: January 22, 2023 |11.00 AM to 01.00 PM
About mentor:
Name: Munmun Das (LinkedIn)
Designation: Data Scientist | Technical Speaker| SSMB Geneva Graduate
Munmun is a professional and research scholar with 16+ years of experience in Software Project Management, Product development, and Product strategy. She has also mentored industry tech-force as an Industry Speaker, Corporate Mentor, and Guest Lecturer. She has implemented handshaking projects on RPA with Dot Net web applications and successfully built on-demand RPA.