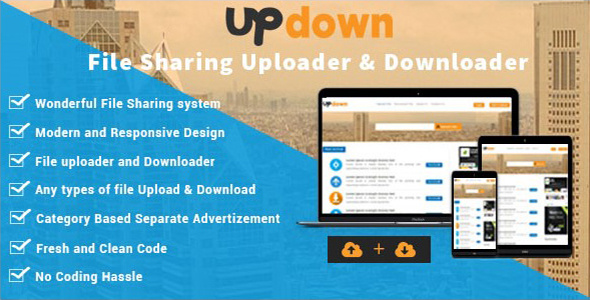 Description:
UpDown – Unlimited File Sharing Uploader & Downloader and Youtube Downloader is a very wonderful PHP Script for Download and Upload any types of files, for example, Movie, apps, games, mp4, mp3, Html, jpg, png, gif format all types of files are supported here. It is very easy to use for any user. It has wonderful advertisement placement features.
Main Features:
Wonderful File Sharing system
Facebook Video Downloader
Youtube Video Downloader
File Sharing & Emailing
Modern and Responsive Design
File uploader and Downloader
Any types of File Upload & Download
Category Based Separate Advertisement
Fresh and Clean Code
Fully Responsive
No Coding Hassle.
Extra Info:
Releaser/Copyright: CodeCanyon
Compatible Browsers: IE10, IE11, Firefox, Safari, Opera, Chrome, Edge
Files Included: JavaScript JS, HTML, CSS, PHP
Software Framework: CodeIgniter
Software Version: PHP 7.x, PHP 4.x, PHP 5.x, PHP 5.0 - 5.2, PHP 5.3, PHP 5.4, PHP 5.5, PHP 5.6, MySQL 4.x, MySQL 5.x
Download: [Mirror One!] [Mirror Two]
DISCLAIMER: No Copyright Infringement Intended, All Rights Reserved To CodeCanyon. I Have Used To share under Educational And Non-Profit Purposes Only. Credit to **CodeCaynon - This forum recommends to peoples to Buy the content to Support creators if possible. No takedown action required it's a Re-presentation of a leaked script.
ENJOY & HAPPY LEARNING!