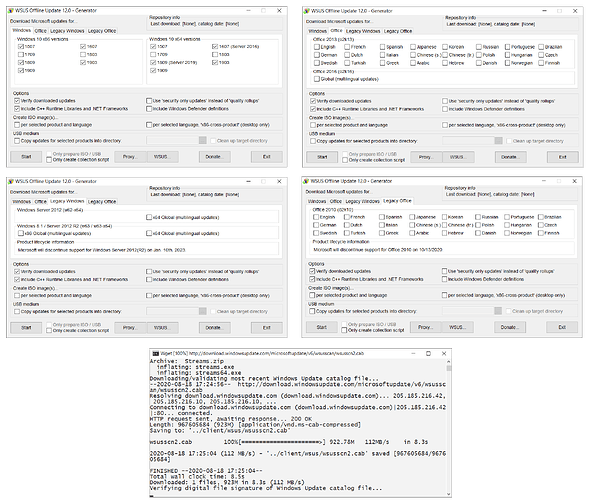 Introduction
Update Microsoft Windows & Office computers safely, quickly & without internet connection
At this site, the open source project formerly known as " c't offline update " or " DIY Service Pack " and published at " The H ", will be continued by its original author, Torsten Wittrock.
Using "WSUS Offline Update", you can update any computer running Microsoft Windows and Office safely, quickly and without an Internet connection.
Please note the patch coverage information .
As licensed under " GNU GPL ", you still may download and use the software from this site for free. Nevertheless, your donation would help to keep this state.
---
General
In addition to the documentation under construction at this site, the existing publications and videos are of course still accessible (see right column).
Furthermore, references on the web are compiled for you at this site's references area. And don't forget to read the FAQs (English/German)!
Download part
To create update media, start the self explaining UpdateGenerator.exe application:
Installation part
On the target computer, start UpdateInstaller.exe and select update installation options:
Click "Start" and your system will be updated: