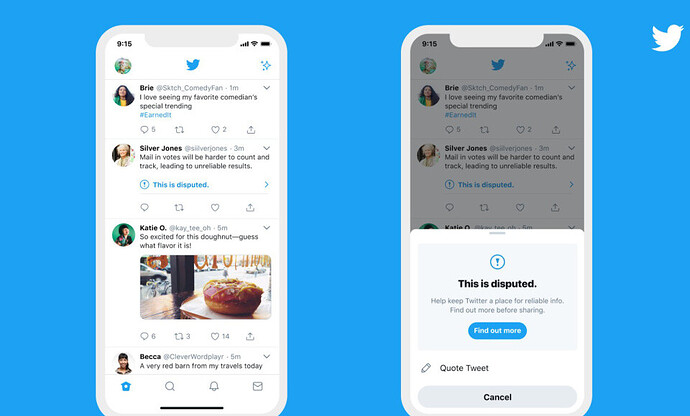 Earlier this year, Twitter started flagging disputed and potentially misleading tweets. Now, it's expanding the feature so that you'll also get a warning if you attempt to "like" a disputed tweet. Engadget reports:
Tapping the heart button on a post that's been labeled as misleading will trigger a prompt with a "Find out more" button to pop up. App experimental feature researcher Jane Manchun Wong discovered the expanded function earlier this month. The tweets she tested, which were related to the elections, showed a warning that says "Official sources may not have called the race when this was tweeted."
A week after election day, Twitter revealed that it labeled 300,000 tweets as misleading between October 27th and November 11th. Out of all those, 456 were blocked from being retweeted or liked and were hidden behind a warning before they could even be viewed. The company says its efforts have led to a 29 percent decrease in quoted tweets containing misleading information. In other Twitter news, the company said today that it would relaunch its verification process early next year along with brand-new guidelines for users seeking out that small, blue badge.