[GET] Pinterest Traffic Avalanche [UNLISTED VIDEO]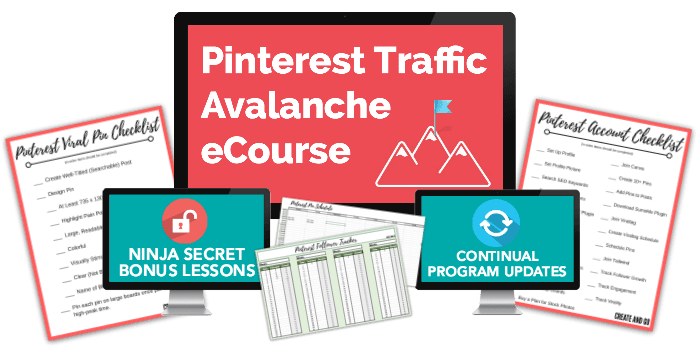 Pinterest Traffic Avalanche

Finally, A Solution for Beginner Bloggers to Drive 10,000 - 100,000+ FREE Monthly Visitors to Your Blog - on Autopilot!

Do any of the following statements resonate with you?

Have you just started your blog or website and are feeling a little lost looking for the best way to get people to actually visit it?

Maybe you have already spent HOURS running in the "turtle race" that is Google SEO traffic, only to not be ranking for any posts and have hardly anyone visit your blog.

You know bloggers talk about Pinterest a LOT, but you have no idea how to go about using it to get people to visit your blog…

And maybe you feel like nobody knows your blog exists…YET…

What if we told you that you could…

Generate THOUSANDS of new unique views for FREE.

Spend LESS time on trying to drive traffic to your blog and more time on what you love - creating blog mosts and monetizing your blog.

Bring hundreds of raving fans to your blog every day for FREE.

Become a leading expert in your niche in just 3 short months.

It's no joke, y'all… Check out what our fellow bloggers are saying…
Meet Maria and Alyssa, the Spinach for Breakfast girls!

"Thanks so much Lauren! I've been binge watching the course since yesterday, and I'm almost all the way through (two Ninja courses left)!

This course is unbelievable! It's so easy to follow. You guys did an amazing job!

I can't believe how much we were not doing on our Pinterest account. It's embarrassing haha. I am so happy I naively reached out to you!"

Pinterest users are NOT your average website visitors…

Pinterest users are an amazing demographic of people:

They spend more money than ANY social media per day (yes, even Facebook)
They are FULL of kind and wonderful people who leave comments and share your blog (they truly are AWESOME).
The majority of users make over 50k per year, and 10% of users make over 125k per year.!
They are 47 million plus STRONG and grew by 24% in 2016.
They are SHOPPERS and are there looking for things to BUY.
The majority of Pinterest users have a college degree and higher education.

Learn the exact secrets, methods, and insider tips that took our health and wellness blog from unknown to a Pinterest Powerhouse, which eventually led to us being able to quit our jobs and work online full-time!
Meet Suzie Burgess from the UK!
Suzie went from 0 views to 20,000 views per month her very first month of using Pinterest Traffic Avalanche! "You may think you know it all from watching different YouTube videos and free information online, but this course goes into a completely new level… Genius."

The Truth: There are lots of Pinterest and other traffic "experts" out there who don't know what the bunk they talkin' about…

They know only how to get you basic results and some even brag about getting 5,000 views per month…

They certainly can't help you reach 10,000 - 100,000 views per month (they've never done it).

They don't truly know the real secrets behind Power Pinners and the real virality power of Pinterest.

Take a second to imagine the potential of that much traffic to your blog…

Imagine the amounts of comments, shares, and engagement you would have on each post.

Imagine waking up every morning to droves of new subscribers signing up for your list and hungry for your next product.

Imagine explosive growth and the ability to quit your full-time job and go live life on YOUR TERMS.
1.
2.
3.
4.
5.
6.
7.