[Method # 1 and 2] BANK on INSTAGRAM - Script + Methods + Motherload of Information!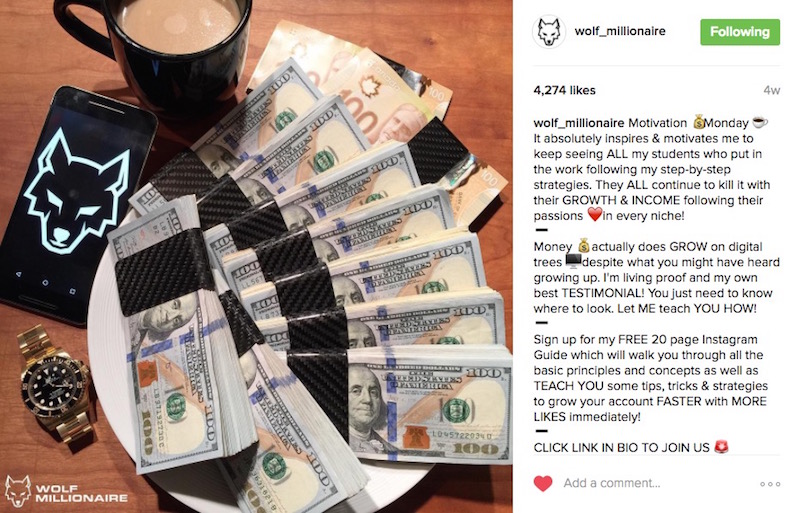 [Method # 1 and 2] BANK on INSTAGRAM - Script + Methods + Motherload of Information
So…everyone wants to get on the Instagram bandwagon and make easy money, right? (notice that I underlined easy because it definitely is easy money for those who are willing to take massive action)
In this thread I'll try to show you some ways to make money with IG… both short term and long term.

But before I begin, here are some things that you'll need if you're serious about banking on Instagram:
Proxies
You'll need proxies for
a) creating accounts
b) using the accounts

For creating accounts, you could use public/shared proxies as you'll need more than 400-500 working proxies daily.
And for using the accounts, you'll need private proxies… Make sure to check with your proxy provider if their proxies work with IG or not.
How many proxies do you need? It depends on how many accounts you want to operate… a ballpark estimate is 1 proxy for every 10 accounts.

A VPS / Dedicated server
You want to run the box 24/7 for most of us, it is not feasible to run it from your home computes. My suggestion? Get a VPS with 2 gigs of ram and a good 100mbit / 1gbit port… it shouldn't cost you hundreds but will save you a lot of bandwidth on your home network + time (if your home network isn't as good).

Domain(s)
Do NOT send all your traffic direct to your CPA offers. If you do, you'll be leaving a TON of money on the table as well as risking your CPA accounts.
Register a couple of domains and funnel your traffic via those domain names. (I'll get to that later and will give you a script as well).
Register domains that are relevant to your offers in general… like winfreestuff.com or whatever.

A Brain and the right attitude
Last but the most important part. Don't just sit there trying to think why a method WOULDN'T work for you… rather get your ass out of your bed and DO something. Test, fail, tweak, test again… stop not until you're making money.
Oh and Did I mention you need to use your brain and be smart? No, you don't have to be a genius but please do not expect people to spoon feed you… you won't make money that way. Period.

Okay enough with the motivation part… lets cut to the chase now.
Making Money Directly - Method # 1
Setting up your landing page(s)
Get a landing page up on your domain.
Pick whichever one you want

A twist would be to link have a 'proof' link somewhere on your page where you have some real looking pictures of the stuff you're giving away for free… e.g. iPad, iPhone etc.
You can easily find pictures on G-images. Some examples below:

http://www.freakgeeks.com/wp-content...d-unbox_11.jpg
http://farm9.staticflickr.com/8304/8...46ec2f18_z.jpg
http://sphotos-a.xx.fbcdn.net/hphoto...69182956_n.jpg
http://www.avforums.com/forums/attac...372.jpgBelieve me those pics would boost your conversions by a lot. People love proof and real looking testimonials.

Okay so you've got the LP up… you'll be driving all your traffic to that page. From there, you'll need to have some sort of geo targeting in place to send the visitors to their country-specific CPA offers. How? I got ya covered.
Create a sub directory on your domain and name it something like "go" or anything creative. Download the zip file from:

Code:

http://www.mediafire.com/?6rjd14tjjytdz8f

PHP Code:
http://pastebin.com/ivfQpjtm

Make sure to change the affiliate links to your offer URLs. You can add as many countries as you want. Although I've added all the main ones (most of IG traffic is USA/CA/UK/AU) and most of offers are targeted towards those countries too.
Now last step is to link the call-to-action button to your directory e.g. if your domain is example.com and directory is names as 'blah'… your call to action button should link to
http://example.com/blah/
Alright, sparky, you're landing page is all good to go. Make sure everything is working perfectly before driving any traffic. Last thing you want is making ZERO money after driving 5000 visits to your LP because there was a freaking typo in the URL. So best test it.

Now to the promotion part:

Create a main account from your real IP. Choose a username like free_giveaways / instawin /…

Change profile picture, post some pics, comment, like and follow some people. Make it look real.

Edit your profile -> paste your link there saying something like
"We're giving out free stuff on Thanksgiving / Black Friday / Halloween / Christmas / whatever. Click the link below to see if you qualify or not"
Send them to your main landing page where you have a nice call to action button, link to proofs page, and from there you'll send them to their country specific offers = more conversions, more money!

Now create a few hundred accounts using public/shared/botnet proxies

Upload different profile pictures, mass update bio (use spintax) and follow random people… just try to make them look as real as possible. Use private proxies for this purpose.

Now load the accounts in the bot, and start liking and commenting on popular pictures with your main account's profile URL in there something like @free_giveaways or whatever your main username is.

People will visit their profile > then your lander > and eventually your CPA offer.

Now scale this up as much as you can.
Making Money Directly - Method # 2
-Set up your domain / landing pages etc the same way I described above in method # 1.
-Set up your main account the same way… but it has to look as legit as they come… Don't load it in a bot, don't access it through a proxy… upload tons of photos, comment, like, follow people around, get followed from real people… basically engage as much as you can.

Create 1000 accounts every day, update profile pics etc and follow your main account from those accounts.
Within a week, you should have quite a lot of followers and activity on your main account.
Now edit your profile and smash your landing page link in there.
Upload real pictures… the kind that people love. Comment/like from the thousands of fake accounts you have.
The goal here is to make it to the popular page on IG… the traffic you'll get to your profile page and eventually your offer URL would be enormous.
After every 10-15 pictures you upload, upload one with your Landing page URL watermarked on it. And try to get that promotional pic to the popular page.
Remember, do not over promote things. Upload real photos and somewhere in the mix upload a promotional picture. Your audience wouldn't mind that and will actually listen to what you say.

Thats it… phew, this turned out to be a big post… took me an hour to write.
I'll probably be back with another thread with more methods and advice inside. Those will be rather long term methods and will show you how you can monetize Instagram traffic INDIRECTLY and make money in the long run.–>