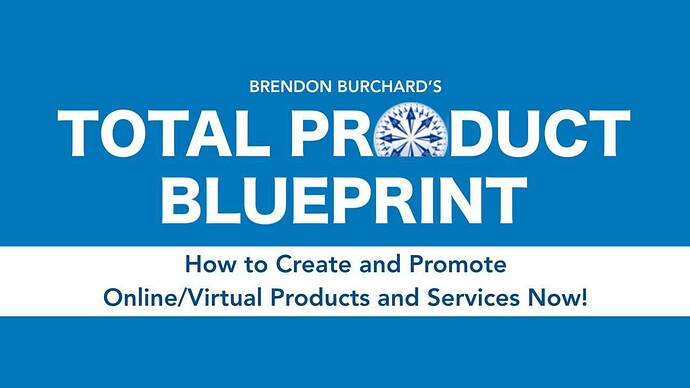 Welcome to Brendon Burchard – Total Product Blueprint 2021
Course Overview:?
Total Product Blueprint is an advanced deep-dive implementation training on how to:
CREATE virtual products/services from your passions, knowledge or advice.
MARKET those products/services effectively to build your online business and respected personal brand.
Learn the TACTICAL details for creating and marketing these products/services:
Module 1: ONLINE COURSES?
No one in the industry has created more blockbuster online courses. Why? Because of the outlines and sales strategies you'll learn in Total Product Blueprint.**
YES, even beginners can create a course (and SHOULD – learn why, when, and HOW in this module).**
You'll learn how to CREATE your course and how to LAUNCH your course!**
Module 2: MEMBERSHIPS /SUBSCRIPTION PROGRAMS!?**
Recurring revenue is the LIFELINE of any business.**
How do you offer and sell content that you charge every month for?**
Which types of content work best?**
How much should you charge?**
What should you do so that people can join ANYTIME?**
What systems are best to release, manage and sell the content and customers?**
Module 3: PAID OR FREE WEBINARS!?
Webinars are STILL hot, but they don't all have to be FREE!**
What if you charged for a webinar series? Or, what if you did a free webinar, then sold on it?**
What's the best OUTLINE for a sales webinar?**
How do you get people and keep people on a webinar anyway? YES, that's all in Total Product Blueprint!**
Module 4: VIRTUAL COACHING SERVICES/PROGRAMS?**
How do you CHARGE MORE for virtual coaching?**
How do you get more people into your program?**
What about GROUP COACHING?**
Which coaching programs allow you to truly scale, and are popular and high-converting NOW?**
Yep, that's in TPB!**
Module 5: LIVE ONLINE TRAINING EVENTS!?
What if you just want to do a one-time only live training?
Happy learning!
DISCLAIMER: No Copyright Infringement Intended, All Rights Reserved to the Actual Owner.

This content has been shared under Educational And Non-Profit Purposes Only.