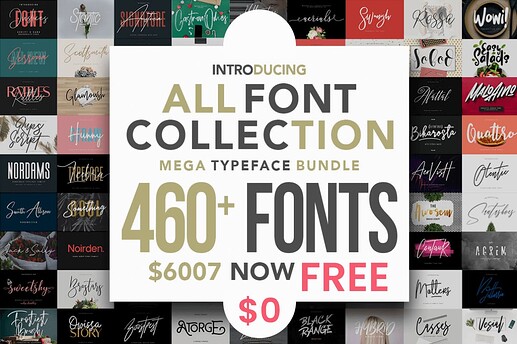 All Fonts Collection – Mega Typeface Bundle is here with an incredible selection of nothing less than 459 fonts (460+ font styles in total)! This free collection will work great with any type of creative project, as it offer a great range in style, thickness and themes!
This monster pack includes premium fonts and is valued at a staggering $6007 by Creative Fabrica. But for a limited time only, you can get it for FREE! Download it now, before it expires.
The bundle is divided into 13 parts (Zip files) in Alphabetical order.
✰ 𝔼𝕩𝕡𝕚𝕣𝕖 𝕀𝕟 𝟙𝟠 𝔻𝕒𝕪𝕤 𝔽𝕣𝕠𝕞 ℕ𝕠𝕨 𝕆𝕟! ✰
ENJOY & HAPPY LEARNING!
𝓐𝓹𝓹𝓻𝓮𝓬𝓲𝓪𝓽𝓮 𝓽𝓱𝓮 𝓼𝓱𝓪𝓻𝓮, 𝓭𝓸𝓷'𝓽 𝓫𝓮 𝓬𝓱𝓮𝓪𝓹!
!! Enjoy Stunning Designing !!