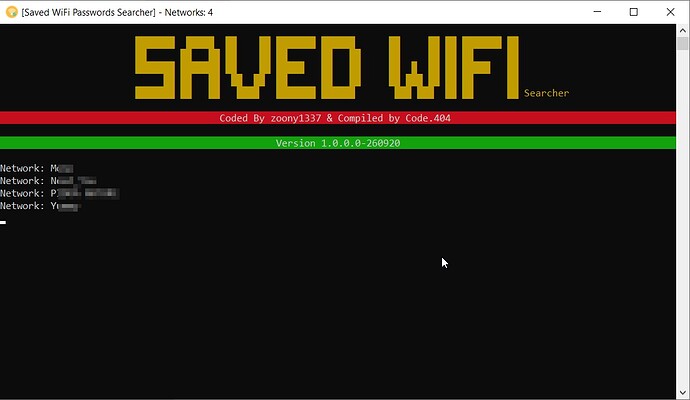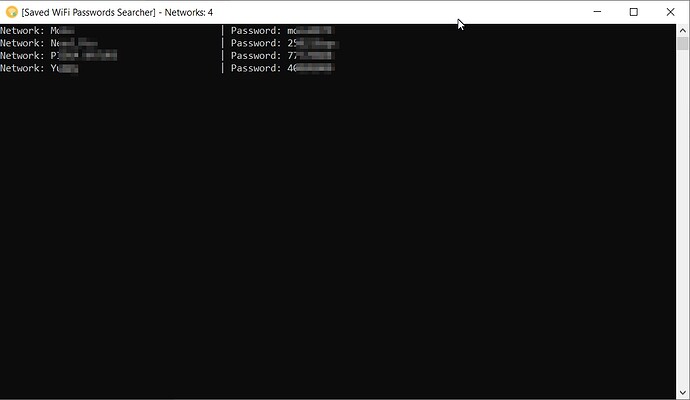 Description
Displays saved WiFi passwords on your Windows machine in second with one click.
This tool displays previously used WiFi passwords. Coming across several CMD commands requiring additional steps, I concluded that this process should be automated; doing it manually is inefficient and time consumable.
Download
File: Saved WiFi Passwords Searcher.exe
CRC-32: 6da0a8c6
SHA-1: 27d4760fb03f756c02701d58754e6de2e9c5b099
SHA-256: 4d8215925c1dbe67f03cc8950ea9a3a77f339bbfbd8f39136a1785741a960246
Requirements
Used to Connected to any wifi
Instructions/Installation/Usage
Just run Saved WiFi Passwords Searcher.exe --> Wait for result. The tool also export the txt file for you too.
Found Bugs?
Really Appreciate for your report.
Disclaimer

This post is provided to help you and for personal use only. Sharing the content of your subscribed materials and the other purchased content is strictly prohibited under 1Hack Terms of Use.

By using this provided material the website 1Hack.us is not responsible for any law infringement caused by the users of this material.