The Saudi-based group OurMine took over Facebook's Twitter account on Friday, then pointed Facebook's 13.4 million followers to their own web site, reports NBC News: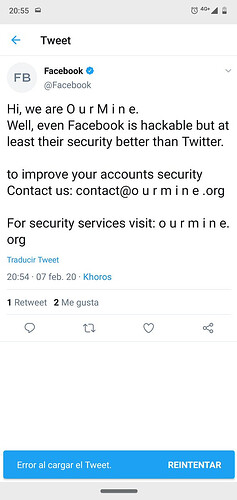 "Well even Facebook is hackable but at least their security is better than Twitter," the hackers tweeted just before 7 p.m. They said businesses interested in improving online security should visit OurMine's website.

The tweet was quickly taken down. Facebook later tweeted that it had regained control of the account. OurMine said in an email that the tweet was up for about 15 minutes…
While OurMine is usually described as a group of hackers, it said its security services are "for profit." Its social media takeovers have received widespread attention… "We have no bad intentions and only care about the security and privacy of your accounts and network," it said on its website.
OurMine is the same group that took over the Twitter accounts of several American football teams in January, posting "We are here to show people that everything is hackable,"