Inbound marketing is a powerful tool for generating leads and growing business because it's driven by data. Knowing what metrics to look at and how to analyze them makes the distinction between a successful and unsuccessful inbound strategy. Measuring how a strategy is performing in real-time, and adjusting accordingly, achieves huge cost savings because a strategy can be changed immediately if it's not delivering the desired results.
9 INBOUND MARKETING METRICS
Below are nine metrics, in particular, our team has found extremely valuable. If you'd like to skip straight to the thick of your benchmarking process, you can download our free book of benchmarks.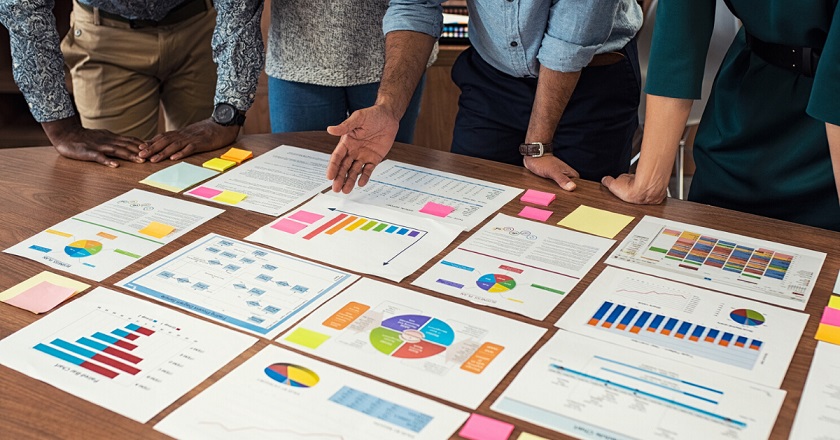 1. WEBSITE VISITS
Of all the traffic your website receives, you should be converting anywhere from 2-5 percent of all visits to contacts. This can be an overarching conversion metric to watch — almost like your umbrella metric .
2. TIME ON PAGE
Each website visit should average around two minutes spent on the given page. You want your users to actually digest and understand the content on your page. If they're leaving within a few seconds, you know you're not reeling them in the way you would like.
3. 80/20
Returning visitors should make up 20 percent of your visits, the remaining 80 percent should be new visitors. You want your website to attract new leads so your business can continue to grow. Otherwise, you'll stunt your growth — and marketing is all about constant innovation.
4. LANDING PAGES
Your landing pages should account for 10-30 percent of your new contacts. You want visitors to convert to leads and a great way to do this is through your landing pages.
5. WEBSITE CLICK-THROUGH RATE
A good range for click-through rates on your website is be 1.5-5 percent. Are users clicking on your call-to-actions for your product or service? If this number is well below the industry average, why?
6. EMAIL CLICK-THROUGH-RATE
Your click-through-rate for your emails should be at the 10 percent marker. Remember, your click-through-rate indicates the success of your email campaign. Your delivery and open rates are important – but are almost worthless if you can't get people to the next step — the click on your call-to-action placed in your email.
7. FACEBOOK ADS CLICK-THROUGH-RATE
When it comes to one of the top social media platforms, using Facebook Ads is almost a must for businesses. And you want to make sure you're getting the most out of your ad spend. How can you do this? Meet or exceed the industry average click-through-rate of 0.9 percent. If you'd like help understanding your return-on-investment (ROI) for paid ads, use HubSpot's Advertising ROI Calculator.
8. PAGE-PER-SESSION
When a visitor looks at your site, you want to look at how many pages they are viewing. Are you providing the information they are looking for? A good measure of website success is at least a two-page visit per session. Mapping out your website pages with ease-of-navigation is a sound strategy to make sure the user has the best experience possible — making it more likely for them to view multiple pages per visit.
9. BOUNCE RATE
Bounce rates are the most misunderstood metric of inbound marketing. Bounce rate is the number of visits in which a person leaves your website from the landing page without browsing any further. Content, lead generations, retail, service, blogs, and landing pages all differ in average industry rates:
Landing Page: 70-90%
Lead Generate Site: 30-50%
Retail Site: 20-40%
Service Site: 10-30%
Content Site: 40-60%
Blog: 70-98%
Are you ready to dive further into your marketing benchmarks? Download our free Book of Benchmarks.
HAPPY LEARNING!