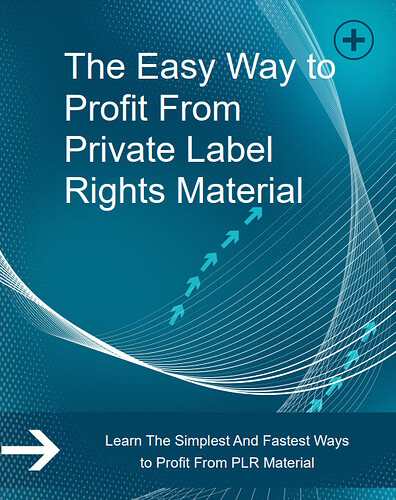 Learn The Simplest And Fastest Ways to Profit From PLR Material
Introduction
Private label rights are a new concept which functions within the realm of internet marketing. It is a derivative of private labeling and can generate a great deal of cash from those companies and individuals
who are tactfully engaged in the world of making money online. The idea follows one wherein an
author sells all or most of the intellectual property rights to their work. There is no legal definition, with
the license being defined by the author. This concept is similar the idea of reselling rights in internet
marketing.
The use of private label rights has become a hot commodity these days, with private label rights being
offered everywhere you look. However, in spite of the particular breed of re-print rights that are defined as
private label rights, not many people are aware of them or how to use them.
Table of Contents
Introduction 3
Chapter One: Defining Private Label Rights 4
Chapter Two: Origins 5
Chapter Three: How to Use It 8
Chapter Four: Affiliate Marketing and Private Label Rights 10
Chapter Five: Pay-Per-Click 14
Chapter Six: SEO 16
Chapter Seven: Email Marketing 17
Chapter Eight: Blogs and Private Label Rights 19
Chapter Nine: Video Marketing and Private Label Rights 23
Chapter Ten: Social Networks and Private Label Rights 25
Chapter Eleven: Niche Markets and Private Label Rights 29
Chapter Twelve: Internet Marketing and Private Label Rights 30
Chapter Thirteen: Regulations 33
Chapter Fourteen: Analyzing Business Cycles 34
Chapter Fifteen: How Individuals Affect and Impact Distribution35
Chapter Sixteen: Components of Private Label Rights in
Economic Growth 38
Chapter Seventeen: How Technology Relates to Growth 39
Chapter Eighteen: How Trade Relates to Growth 40
Chapter Nineteen: The Functions of Money 42
Chapter Twenty: Ownership and Market Structures 48
Chapter Twenty-One: Integration into the Global Economy 55
Chapter Twenty-Two: International Trade 57
Chapter Twenty-Three: Technology and Human Interaction 59
Chapter Twenty-Four: Making Money 61
Chapter Twenty-Five: Articles & Blogs 63
Chapter Twenty-Six: E-books 64
Chapter Twenty-Seven: Warnings 65
Happy learning!